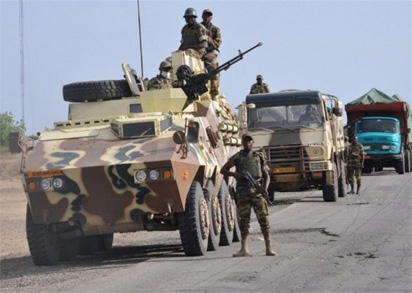 Nigerian troops repelled an attack on a military base in northeastern Borno state in which a soldier was killed and four others were injured, military and militia sources told AFP Saturday.

On Wednesday jihadists from IS-affiliated Islamic State West Africa Province killed three soldiers when they temporarily seized control of another base in the town of Kareto, 200 kilometres away.
In the latest attack on Friday, the jihadists in several trucks carrying anti-aircraft guns attacked a base in the Kekeno village near the garrison town of Monguno, the sources said.
The militants were pushed back after a prolonged fight that lasted almost three hours with aerial support and reinforcements from Monguno.
"The terrorists made desperate efforts to overrun the base but were pushed back after heavy fighting," a military officer in Maiduguri said.
"Unfortunately we lost one soldier in the encounter and four others sustained injuries," the officer, who asked not to be named, added.
There was no indication of Boko Haram casualties.
Details of the attack were slow to emerge as telecommunications infrastructure has been destroyed by fighting and there are strict controls on movement in rural Borno state.
"The insurgents could not enter the base despite their number and heavy weapons," said a civilian militia fighting the jihadists who gave a similar account.
"I learnt one soldier was killed and a few others were wounded," the militia said,
Residents of Kekeno fled to Monguno following the attack, Monguno resident Adamu Sheriff said.
"Boko Haram attacked Kekeno around 5:30 pm (1630GMT) and engaged soldiers for almost three hours before they were forced out", said Sheriff who arrived Maiduguri on Saturday.
It was the second attempt by Boko Haram to takeover the base in two months.
In September the jihadists made a failed attempt to seize the Kekeno base and were pushed back after hours-long battle.
In recent months, Boko Haram jihadists have carried out repeated attacks on military bases in the northern part of Borno, although the military has strongly denied reports of heavy troop casualties.
The authorities maintain the group, whose insurgency has left more than 27,000 dead since 2009, is on the verge of defeat, despite the ongoing violence.
https://newlive.vanguardngr.com/2018/10/we-have-assurance-of-wining-lagos-state-pdp-governorship-candidate/