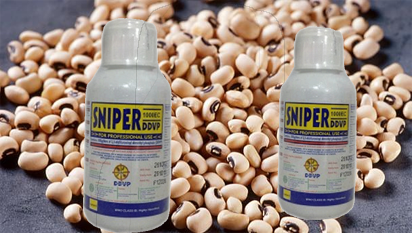 Sniper beans
As the rage on the use of Snipper pesticide to preserve beans continues, some sellers of the staple food have complained of decline in purchase and heavy losses.
Report has it  that beans traders in the popular Ketu Produce Market in Lagos and Magboro, Ogun State are already counting their losses as they lamented that consumers now shun one of Nigeria's popular table food.
Newsmen report that news about the use of Snipper in preserving beans broke out last week which has made many consumers to stay away from it.
However, the traders in the popular markets were already feeling the heat as they continued to make heavy losses on the account of boycott by the consumers.
DOPF to honour Alaibe, Adjogbe, Ukah, others at 2018 Convention
A beans dealer in Ketu market, simply known as Donatus, said he had yet to make any sale since Saturday when he made the last sale of the food item.
"I am surprised by the news, I only noticed that the sale dropped on Saturday but I came to know about the Snipers beans when I asked on Sunday what is going on.
"I was told by a friend in the market that the decline in purchase is due to the news going round that some dealers are using Snipers to preserve the beans.
"If not for other food items, I would have been left with nothing to sell because today, I am yet to make sale,'' he said.
For Margaret Uche, another beans retailer in Ketu, government should find a way of controlling the situation as it had affected her income.
"Before the news came around I used to sell at least a bag of beans because many of those selling the cooked beans are not coming again because their consumers are not buying.
NAFDAC sensitises farmers against wrong application of agrochemicals
"The news about the Snipper beans is a bad one, and I want the government to act fast to arrest the culprits because they are destroying our business.
"Many like beans because it is one of the food that we can use in many ways, either eating it when cooked, or making it as paste for the popular "Moin Moin or even soup,'' she said.
Also, another retailer known as Audu, however, feigned ignorance about the Snipper beans. He said he was unaware of the news going round.
"I don't know what it is all about, I have been selling my product, I use to hawk from one place to the other and nobody has yet to ask me not to sell,'' Audu said.
In a related development, the beans boycott had also affected restaurant owners that were selling cooked beans in Magboro, as consumption of the food is now on sharp decline.
Diamond Bank records N142bn gross earnings in nine months
A restaurant owner, Adijat Salako, said that many of her customers now refused to eat beans to avoid eating the ones allegedly preserved with Snipper.
"Most of my customers now avoid eating beans and I have stop buying it in large quantities. I first knew about the product when one of them asked for Snipper beans.
"When I was about to serve him, he rejected it and told me if I have yet to hear about the news about beans preserved with Snipper.
"For me beans is one of the most consumed food in my canteen because many eat it with rice, yam, noodles, spaghetti, bread and so on,'' she said.
NAN