By Dirisu Yakubu
ABUJA- The Peoples Democratic Party, PDP, has warned the ruling All Progressives Congress, APC, to stop the "fixation" on its Presidential candidate, Alhaji Atiku Abubakar.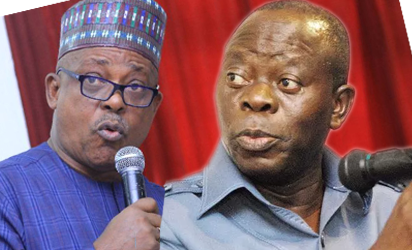 The party was reacting to a statement purportedly made by the party wherein it said the PDP and Atiku were broke, lacking the resources to fund its campaign.
But reacting on behalf of the party, PDP spokesman, Kola Ologbondiyan said Nigerians have resolved to vote out the APC in 2019, adding that the ruling party was becoming jittery by the day over its fear of defeat at the polls.
https://www.vanguardngr.com/2018/11/osun-poll-pdp-wants-njc-to-probe-relocation-of-election-tribunal/
He said: "APC is jittery but what is even their business about the state of our finances? 2019 is not about who has more money but about the need to rescue Nigeria.
"Having seen through their lies, Nigerians have resolved to vote out the incompetent and clueless Buhari. They can say whatever they like but our advice to them is that they should start packing their bags because their time is up.
"They have nothing to offer but Nigerians want Atiku to come and heal our land and Insha Allah, Atiku will send Buhari home in 2019."
https://www.vanguardngr.com/2018/11/2019-if-buhari-isnt-returned-nigeria-will-go-backward-ogbuagu/