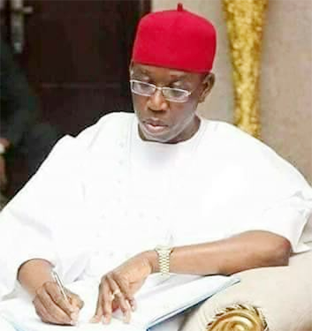 Okowa
By Hugo Odiogor
That Asaba Township Stadium, now named after a national hero, Stephen Keshi, was the venue of this year's AITEO Cup final, the old Challenge Cup, comes with lots of historical antecedents and a critical milestone to the administration of Dr. Ifeanyi Arthur Okowa.
Edo Govt bursts illegal revenue collection syndicate in Benin
The stadium added another historical feat when it hosted a spectacular FA-Aiteo Cup final on October 26 as Enugu Rangers came from 3 goals down to defeat  Kano Pillars 4 – 3 on penalties. This was the first competitive match at the Stephen Keshi Stadium, it was a thrilling encounter.
Enugu Rangers International returned to winning the Cup after a 35-year drought. The last time they won the cup was in 1981 under Coach Christian Chukwu. Before then, in 1978 final, Rangers fell 3-0 down against Bendel Insurance of Benin at the National Stadium, Lagos. It took three strikes from Chris Ogu, Henry Ogboi and Alkali Monidafe from the Felix Agbonifo, skippered Bendel Insurance FC, Benin City, to shock Enugu Rangers beyond belief.
In the old Midwest, when Dr Sam Ogbemudia was governor, apart from Insurance which was the most popular, there were other football clubs like the state-funded Vipers FC and Scorpions FC (an all-military football team, from the S & T Division in Benin City). The Police Machine FC , Benin City,  AT & P from Sapele,  Mac Demort F. C , NPA FC and   Eselemo Diamonds from Warri,   Asaba Textile Mill AsabaTex F. C. There was Ika Rangers from Agbor.In fact Asabatex represented the state in 1975 and were brushed away by Enugu Rangers International. Dr. Okowa was among the young men who trekked to St Colombas Grammar School, Agbor, to watch Ika Rangers FC in action.
Suffice to say that Col. Ogbemudia recognised the exponential power and values of sports to unite and mobilise the people and he invested strategically in it. This paid off handsomely as Edo and Delta States became the dominant power in sports development. Delta state has won all but three editions of the National sports festivals.
It   has produced so many sports men and women. Anioma area of the state has been part of this success story regardless of the lack of access to a sporting infrastructure.  When Chief James  Ibori came to power in 1999, he continued with the tradition of sports development.
While towns like Warri and Oghara and Ughelli could boast of fully developed stadia, some with covered roof and with tartan tracks, Asaba Township stadium exist in name at its gate. It had an indoor sports hall and fully walled fences.
It hosted inter-house sports for some secondary schools, community football competitions, march-past on national independence celebrations and religious events.
Suffice to say that the absence of such a facility killed the interest of people in this area in sports.  The sense of alienation and marginalisation was total. The likes of Vivian Chukwuemeka moved to the UK.
Sports is one area where Delta State is blessed with abundant talents that can be developed for individual and team sports. It requires the existence of such infrastructure to actualise this cardinal aspect of human capital development.
There are prospects for the emergence of more sports men and women by harnessing the economic potentials of the STARS University and International Golf Course in Idumuje Ugboko and the existence of Stephen Keshi Stadium in Asaba.
There is no doubt that setting up of the STARS University at Idumuje Ugboko and International Golf Course, just 55 km away from Asaba International Airport was a far sighted move by Dr. Okowa and Prince Ned Nwoko to tackle the challenges of youth development in Delta North senatorial district
What is required is to conceptualise a youth development programme in Aniomaland which produced the likes of Ms. Martha Jugah, Victor Oduah, Nduka Ugbade, Austin Okocha, Sunday Oliseh, Peter Konyegwachie,   Emma Okocha, Ndubisi Okosieme   and many others.
With the establishment of viable infrastructure like the Stephen Keshi Stadium there will be ready facility to train talents from the area. The location sporting events by the STARS University and other youth development programmes, there will be basis to produce sporting talents whose income will translate into invisible trade and boost foreign exchange earnings for the State.
Odiogor, a veteran journalist, writes from Lagos.