By Emeka Mamah and Dennis Agbo
ENUGU- THE Igbo leaders, including the Ohanaeze Ndigbo, Igbo Leaders of Thought, the political elite, the intelligentsia, women groups, religious leaders, among others, have resolved to support the Presidential candidate of the Peoples Democratic Party, PDP, Alhaji Atiku Abubakar and his running mate, Mr. Peter Obi in the 2019 presidential election.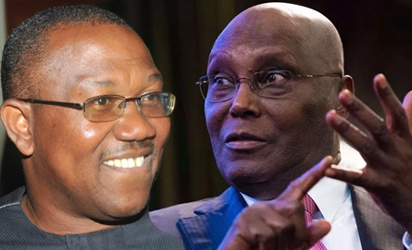 They said that they would identify with Atiku and his deputy because of their promise to restructure the country along geopolitical zones.
This was contained in a communique read on behalf of Ndigbo by Chief Olisa Agbakoba (SAN). The communique titled "Ndigbo 2019 and beyond Summit read: "The Igbo people of Nigeria held a one day non-partisian and inclusive summit, convened by elders, traditional and religious leaders on November 14 2018, to consider Ndigbo's place in the polity, especially in the light of the forthcoming 2019 elections.
"The summit deliberated on the state on Ndigbo in Nigeria today, especially after years of exclusion from the centre. This country has never been so divided as it is today. We, Igbo, have always yearned for a level playing field with justice, equity and fairness.
"The summit recognised the nomination of His Excellency Mr. Peter Obi, former Governor of Anambra state as the vice presidential candidate of the PDP and fully endorse this nomination. It was acknowledged that this nomination puts Ndigbo back to the centre of governance. It id therefore important that Ndigbo should rally behind the Atiku/Obi ticket.
https://www.vanguardngr.com/2018/11/im-depressed-by-killings-in-nigeria-buhari/
"We identify with Atiku/ Obi ticket on the restructuring agenda as has been reiterated by the four zones of the country, namely South-South, South west, North central and South east. We believe that as long as the federating units remain weak, the centre will continue to be weak. We equally move to appreciate the position of the Atiku/Obi ticket in promoting national unity.
"In conclusion, the summit reiterated that the time is now for Ndigbo to mobilise and organise effectively, realise the Atiku/Obi ticket. We are not campaigning against anybody, we are simply campaigning for our very survival. Igbo votes must count wherever leave in Nigeria."
Speaking earlier,the President General of Ohanaeze Ndigbo, Chief Nnia Nwodo has said that although would meet in January to decided the way forward for Ndigbo, Atiku performed better that other presidential candidates interviewed by his committee to find a president for the country. He said that there were four million Igbo residing in Lagos; 11.6 million in the north and 500,000 in China, among others, pointing out that Igbo votes can make the difference if counted.
https://www.vanguardngr.com/2018/11/im-depressed-by-killings-in-nigeria-buhari/
Nwodo suggested that among the issues that should be presented to Atiku should restructuring, completion of second Niger bridge, building of railways across eastern states and well as maltreatment of Ndigbo in Nigeria.
Also speaking, wife of former president of Nigeria, Prof Uche Azikwe said that there should be written agreement between Ndigbo and Atiku over his polices to serve a reference point.
Senator Ike Nwachukwu, Chief SN Okeke, Dr. Okesilieze Nwodo also spoke their different states.