By Olasunkanmi Akoni
The All Progressives Congress, APC, Lagos State chapter, Governorship Candidate, Mr. Babajide Sanwo-Olu has stressed the need for various campaign groups of the three senatorial districts to embark on reconciliatory moves of all aggrieved members to engender total victory for the party's candidates in the 2019 general polls.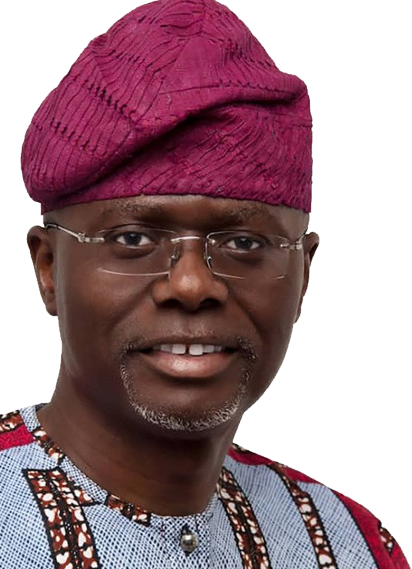 Sanwo-Olu gave the task while addressing Executives of the West Senatorial District of the Buhari, Sanwo-Olu Independent Campaign Group, ICG, led by former Peoples Democratic Party, PDP, Lagos chapter, Moshood Salvador and other stakeholders, held at the campaign Secretariat, Maryland, Onigbogbo Local Council Development Area, LCDA of the state.
You're not going to vote in 2019, Buhari tells Diaspora Nigerians
On October 30th, Lagos as part of effort towards finding common ground among party members after the conduct of primaries, APC collapsed all support structures by harmonizing Buhari and Osinbajo Campaign Support Group, BOCSG, Ambode Mandate Support Group, AMSG, and Babajide Olusola Campaign Organization, BOSCO, into an Independent Campaign Group, ICG.
The move was geared towards resolving disputes among various groups, such that may had seemingly divided the party after governorship primary election in the state and serve as an extra hand to the party in the state during forthcoming general elections.
It was gathered that the collapse of the groups was aimed at forming a formidable independent campaign team that accommodates all party members with the party ideology as its focal point to ensure victories for incumbent President Muhammadu Buhari and Babajide Sanwo-Olu, the Gubernatorial candidate and other political offices' seekers in the state.
ICG is led by Mr. Tayo Ayinde, who was until recently serving at BOSCO, as Director General of the Group, with an APC chieftain, Cardinal James Odunbaku, as his deputy.
Speaking on the occasion, Sanwo-Olu, sought for unity in the party, noting that the reconciliation of all aggrieved members would be necessary for a successful victory at the forthcoming general elections in the state.
Sanwo noted that any victory recorded in 2019 would not be for him alone but all members of the party, adding that that he had extended an olive branch to everyone who felt cheated or shortchanged, so that they would work as a team and build a formidable party that would be victorious at the polls.
According to him: "We will campaign together, get victory for Lagos State and get victory for President Muhammadu Buhari and for all other contestants, that is our target and we will achieve that if we work as a family."
Speaking at the event, Salvador assured Lagos APC that he would strategize to give the party the desired victory at the polls.
"The challenge before me is to make sure Sanwo-Olu wins in Lagos State with landslide victory and President Buhari is returned. It is an assignment given to me and I can assure you that it will be delivered.
"APC has not been able to maximize its capacity. I will bring my experience to bear to ensure it performs maximally at the forthcoming elections. My target is to get two million votes for APC during the governorship election in Lagos.
"I am appealing to all APC aggrieved members to shield their swords, remember that we are working for the victory of the party, the party is above any one individual, so we must put the party's interest first," he said.