…Says allegation about Kanu's assassination has caused him emotional, psychological trauma 
A plaintiff, Mr Isaiah Ayugu, has urged the Federal High Court, Abuja, to hold Sen. Eyinnaya Abaribe and former Minister of Aviation, Mr Femi Fani-Kayode culpable for the escape of the leader of the Indigenous People of Biafra, IPOB,  Nnamdi Kanu to Israel.
IPOB : Kanu's re-appearance shows we've been absolved of alleged assassination, kidnap – Presidency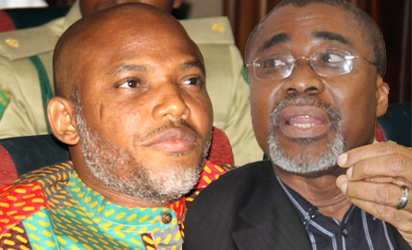 The Federal Government had proscribed the Indigenous People of Biafra as a terrorist group after a court had pronounced it so.
Senatorial poll: Court okays suit seeking to disqualify ex-Gov Nnamani
Mr Oghenovo Otemu instituted the suit on behalf of the plaintiff, Mr Isaiah Ayugu, a legal practitioner and made a copy available to newsmen on Thursday in Abuja.
Others included in the action are: Ifeanyi Ejiofor, Counsel to Kanu,   Tochukwu Uchendu, Emmanuel Shallow Ben, Emmanuel Kanu, and Uchechi Kanu.
In the suit marked FHC/ABJ/CS/1254/18, the plaintiff also asked the court to immediately order the commencement of investigation into the circumstances surrounding the escape of Kanu from the country.
He averred that his action was predicated on the respondents' various allegations that Kanu could have been assassinated by the Nigerian Army.
The court was also told to order the arrest and prosecution of respondents after proper investigation must have been done on how the IPOB leader fled the country.
The plaintiff further alleged that all the listed respondents had aided Kanu's escape.
The plaintiff had also prayed the court for an order mandating all the respondents to be prosecuted, if they were found to be culpable.
Ayugu said during the period when the blackmail was against the military and the Nigerian government, he suffered emotional and psychological trauma, adding that his freedom of movement and rights were hindered.
Also joined in the suit is Director- General, the Department of State Services (DSS), Inspector-General of Police and the Nigeria Police Force.
No date has been fixed for the hearing of the case. (NAN)