LAGOS — Vice President Yemi Osinbajo has restated that he is an advocate of fiscal federalism, stronger state governments and state police.
Mr Osinbajo made this submission while delivering the 40th Anniversary Lecture of the Association of Friends on Monday in Lagos.
The theme of the lecture is "Restructuring and the Nigerian Federation."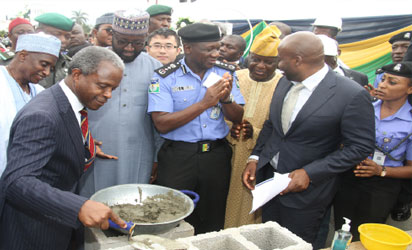 He reiterated his stance that good governance was what Nigeria needed rather than geographical restructuring.
"I have been an advocate, both in court and outside, of fiscal federalism and stronger state governments. I have argued in favour of state police, for the simple reason that policing is a local function.
"You simply cannot effectively police Nigeria from Abuja. Only recently, I made a point that stronger, more autonomous states would effectively eradicate poverty."
Prof. Osinbajo's stance on stronger states and state police is at variance with that of President Muhammadu Buhari who has publicly opposed state police.
President Buhari's non-commitment to state police and stronger states, components of a restructuring of the federation demanded by many Nigerians, is believed to have influenced the lack of action by the ruling party, APC, on the matter.
Although a committee set up by the APC, following public outcry, submitted its report, the ruling party has failed to act on it.
Despite the inaction of the presidency and the ruling party on restructuring Nigeria, Prof. Osinbajo has, however, continued to restate his support for major aspects of restructuring. He recently engaged in a public debate with former vice president, Atiku Abubakar on the latter's commitment to restructuring.
Subscribe for latest Videos