By Godfrey Bivbere
Indecision by the Federal Government is affecting port operations in Warri, former National Financial Secretary of the Association of Nigeria Licensed Customs Service, ANLCA, Prince Val Orhibabho, has said. Speaking to  Vanguard Maritime Report, Orhibabho said that the Federal Government seems to be confused on what it wants to do with Warri port.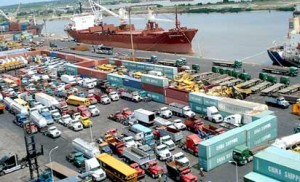 He noted that the same government that has commenced the dredging of the Warri port channel is planning to embark on the construction of a new deep sea port. According to him, "Government do not know what they want. If they want to build a new port why are they dredging the channel of the present port?
"These people are not serious, they want to build a new deep sea port yet they are dredging the channel leading to the present port.
READ ALSO:2019 elections not declaration of war, Buhari urges politicians
"The issue of the deep sea port started about five-six years ago, I was involved in the logistics aspect of the project when it was first conceived.
"An Italian company called Sayama based in Lagos, got the contract for the project but before the start of the project, the Ijaws and Itsekiris started laying claims to the land for the project.
"That discordant turn between the two communities ended that project," he noted. "Have they settled the issue before talking about reviving the project? I  am not aware whether the issue of ownership has been resolved".
Recalled that the Minister of Transportation, Rotimi Amaechi recently disclosed that government is to construct a deep sea port in Warri