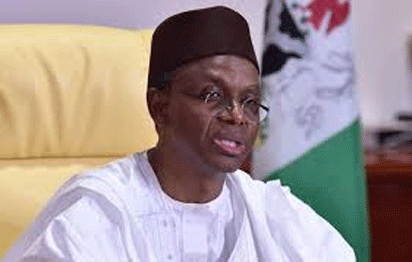 El Rufai, Kaduna Governor
By Ben Agande
Kaduna – The governor of Kaduna state, Nasir El Rufai Tuesday explained that neither religion nor ethnicity was a factor that he considered in the choice of Dr Hadiza Balarabe as his running mate, saying those reading religious meaning to it were enemies of Kaduna state.

He spoke at the Government House when the people of Sanga, the local government where the deputy governor designate is from paid him a thank you visit.
Governor El Rufai's choice of a female Muslim from South her Kaduna as his running mate has sparked controversy in some quarters with some people accusing him pursuing a religious agenda.
But in his first comment since his choice of the first female deputy since the return to democracy, Nasir El Rufai said he was driven by competence and not any other consideration.
According to the governor, those who criticised his choice of a female Muslim as a running mate should bear in mind that government house is neither a mosque or a Church but an office whose occupants swear by the holy books to be fair to all without regards to religion or tribe.
He said President Muhammad Buhari was informed about his choice of a deputy governor and even encouraged him to choose a woman.
"… about a year ago, the Deputy Governor, Architect Barnabas Yusuf Bala told me he was go going to contest for Senate, I was in dilemma to get a replacement for Architect Bantex.
"So, we started compiling list of people for consideration, and I had up to 32 names, including names of some people seated with me here today. Then, we started selection and dropping of names based on merit. From 32 names to 17 to 12 and then 5 names, three males and two females.
"At that point, and as usual of us, when we are taking serious decisions we consulted President Muhammadu Buhari, because he is the only person I know that has worked in the army, he has been Governor, Minister and President. So, when I told him, he said anyone older than you should be dropped, then one name was dropped, remaining two men and two women, then he said, since you are interested in a woman pick the best woman. That was how I picked Hadiza because she was the best.
"Meanwhile, from the beginning, I had told my team that, I will never choose or deny anyone appointment because of religion or ethnicity. But some people have started all manner of things, walking about 'Muslim-Muslim ticket' and so on. But government house is not a place of worship. It is neither a mosque nor a church. we come here to work for the people.
"The people that have criticized me most on this are people who never voted me in the first place. So, are they not supposed to be celebrating if in their own opinion I have made a wrong choice? Then, why are they mourning?" El-Rufai querried
While praising his choice of a running mate, Mallam El Rufai said she made giant strides in her previous assignments, especially in the primary healthcare development agency where she was Executive Secretary.
Speaking on behalf of the community, the traditional ruler of Numana, Etu Numana, Brigadier-General Aliyu Yamma (Rtd), said over the years, successive governments had forgotten the people of the area as far as participation in government was concerned.
"The governor couldn't have made a better choice than the selection of Hadiza. We now feel a sense of belonging in Kaduna government. We are just like black Americans in Kaduna State".
He also appealed to Governor El-rufai to ensure establiahment of Army Battalion in Sabo Gida village area of the local government because of insecurity in the area.