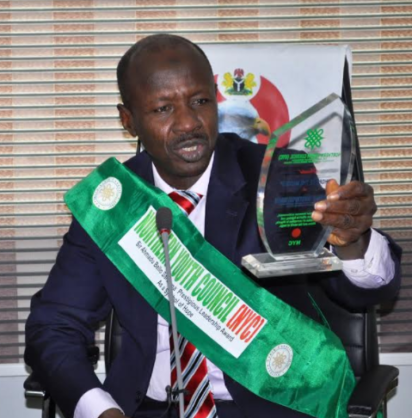 Chairman of the Economic and Financial Crimes Commission, Ibrahim Magu
By Soni Daniel, Northern Region Editor
ABUJA—ACTING  Chairman of Economic and Financial Crimes Commission, EFCC, Ibrahim Magu, boasted  Monday that he had set a new record in asset recovery and conviction of corrupt elements in the country in the last three years of his outing.
Diezani
The EFCC boss also revealed that the former Petroleum Minister, Diezani Alison-Madueke, was not being tried in the United Kingdom as speculated, explaining that no corruption case had been filed against the former minister in the UK and that Nigeria was desirous of extraditing her to face trial at home.
"She is not currently being tried for anything in the UK. There is no prosecution of Diezani going on in the UK. We cannot wait indefinitely for the UK. That is why we want to initiate her extradition and trial in Nigeria," Magu told journalists in his office.
Magu, who flaunted the achievements of his three-year stewardship before journalists in his imposing office in Abuja, announced that EFCC under his watch recovered N794 billion, $261 million (about N77.8 billion), £1.1 million and 407 mansions from looters.
He also said that the commission convicted no fewer than 703 corrupt persons and institutions within the period under review.
…secures 703 convictions
"In the three years that I have been in charge of EFCC, we have secured 703 convictions. The breakdown is as follows: 103 convictions in 2015, 194 convictions in 2016; 189 in 2017 and 217 from January 2018 till date," Magu revealed.
"Ladies and gentlemen, in the past three years, we have set recovery records to the envy of virtually all law enforcement agencies in Africa.
"It is on record that about 90 per cent of all recoveries in Nigeria is through the EFCC.
"Following court orders which granted our prayers for interim and final forfeiture of looted funds, the recoveries under my watch between November 2015 and today are as follows:
"Over N794billion recovered. Over $261 million has been recovered. The Pounds Sterling recovered stands at 1, 115, 930.47 Pounds. The Euros recovered in the period is: 8,168, 871. 13 Euros.  There is also the sum of 86,500 CFA
"Hundreds of properties such as filling stations, petroleum products, land, jewellery, automobiles, real estate, vessels, hospitals, company shares and heavy machinery and broadcast equipment have been seized from corrupt elements between 2015 and 2018.
126 mansions forfeited
"From 2015 to 2018, 407 mansions were seized, 126 have been forfeited finally and 281 are under interim forfeiture. Nine filling stations were seized and placed under interim forfeiture.
"Plots of land seized sums up to 98 of which 56 are under interim forfeiture, while 42 have been forfeited finally to the Federal Government.
"Two hundred and fifty nine automobiles have been seized, 35 are under interim forfeiture while 224 have been forfeited finally.
"A hospital, St. Solomon Health Care Centre located at No. 24, Adeniyi Jones Street, Ikeja, Lagos, has also been forfeited finally. In 2016, 1500 metric tonnes of AGO and 3,035 Metric tonnes of LPFO were forfeited finally."
On the OML 245 scam, otherwise known as Malabu Oil, Magu disclosed that in an effort to nail the perpetrators of the scam, some Italian prosecutors would be arriving Nigeria very soon to compare notes with the EFCC on the matter, adding that the high profiled suspects in the controversial fraud would face the law.
Magu said:  "We are working assiduously to get Malabu trial to a conclusion. For this reason, Italian prosecutors are being awaited next week."
The chairman also announced the resolve of the agency to go after top Nigerian contractors who collected huge sums of money from the government and its agency for key projects and services but abandoned those projects and disappeared into thin air.
Magu also announced that the commission was on the trail of top Nigerians who looted public treasury to acquire choice property in Dubai and other world capitals, and were desperately trying to dispose of such property so as to evade arrest, prosecution and forfeiture by the EFCC.
"We are going after top Nigerians trying to sell their property in Dubai to evade detection, confiscation and prosecution. We are in touch with Dubai authorities. Those countries are willing to work with us and stop corruption," he said.
https://newlive.vanguardngr.com/2018/11/to-deepen-democracy-we-must-build-our-institutions-speaker-dogara/