By Dennis Agbo
Mr. Sullivan Chime served as special adviser, and later commissioner for justice in the eight years of the Chimaroke Nnamani administration on the platform of the Peoples Democratic Party, PDP, in Enugu State. He subsequently emerged as governor and served as governor for another eight years on the platform of the PDP. Following his successful handover to Mr. Ifeanyi Ugwuanyi.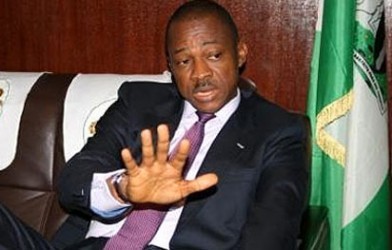 PDP mocks Buhari over alleged plagiarism
However, not long after his exit from office he defected to the All Progressives Congress, APC. In this interview conducted ahead of the launch of his book An Honour To Serve: Enugu State in the Sullivan years, he speaks on what he alleges as the 16 years of the locust under the PDP.  Excerpts:
What would you say was your greatest challenge in the eight years you served as governor?
Before we came in, security in Enugu was nothing to write home about; people left Enugu; they were so scared and Enugu being home to all as capital of old Anambra state; East Central State, Eastern Nigeria and even Southern Nigeria at a time; home to all the Igbo, became unsafe. So, it was a major challenge that we had then. My experience as Attorney General helped me to at least know what the issues were. We were able to handle it very well; moving from that low and very disturbing situation, we became the best, not one of the best. We became the state with the least crime rate in the country.
Was the present Governor your preferred candidate when the issue of succession came up in 2014?
I had no candidate; I allowed the people to make their choice and they came up with him. I made the people of Enugu North a promise that whoever they chose that I will support. Whatever exercise that they went through that threw him up was not the issue; and we supported him.
But he is your godson?
He was never my godson as you have alluded to here but if he wants it's up to him. I can't be anything to anybody. Anywhere he wants to see me, I am there. I don't have issues with him. If he has issues and he come to me, I will be readily available to give him that advice.
What magic do you think will work for President Buhari in the 2019 general election?
There is no magic it is a question of convincing our people letting our people know the difference between the people lying to them and the people telling them the truth. I was reading the other day in the paper where Governor Dave Umahi said that the South-East felt much better under Buhari than PDP. Is he not PDP? You must tell yourself the truth. What did PDP do for you? Let us forget this talk, talk, what did PDP do for you?
We should be asking you what the APC has done for us.
APC just came in…we are talking Federal Government here not state government. What did PDP do for you? Can you drive from here to your place in an hour plus? That used to be the case as a practicing lawyer going to Owerri, I will leave here in the morning and be in Owerri before 9am to do my case.
Maximum an hour ten minutes Enugu to Owerri can you do it now? After 16 years and we are here lying to ourselves? I hear you cannot drive straight on this Enugu – Port Harcourt Express road to Port-Harcourt now you must go through some villages. The road is now impassable and we are talking about PDP. Look at Enugu – Onitsha Express road.
What has the APC in power for the past three and a half years done to remedy the situation?
APC inherited a lot of nonsense and you don't expect them to clear it in one day. Look at Enugu – Onitsha road. Can you drive from here to even 9th Mile? Can you?
Now that APC has come work is in progress. There is no magic; we are talking of 36 states. There is no magic you need time to clear the mess.
Would you be holding similar view if you were still in the PDP?
Yes. We complained. There was nothing we didn't do, almost all our meetings with the PDP federal government was about all these basic roads. Yar'Adua when he was president promised to dualize 9th Mile to Makudi, he made that promise. May God bless that man, if he had survived he would have done that road because the man was a man of his words, unfortunately what happened, happened and all the promises disappeared.
The International Airport built here was approved by him but for him there wouldn't be any international airport here. We had to use the word 'Biafran president' here for five years what happened? We are here clamouring for Igbo president, Igbo president we should be interested in what we get not about appointments.
We had all the appointments under PDP, I mean all the appointments so, what happened? So what happened at the end? It is not about holding any office, it is not about holding any appointment it is about benefits from the government. Let our places be developed. Let our places be developed. Jonathan was approving that some of the rail lines be adjusted to what they call standard gauge and all that; did he talk about Enugu Port-Harcourt line?
It didn't take time for you to fallout with Chimaroke Nnamani who brought you into politics; why?
I didn't fallout with him. He decided to join another political party; I didn't have issues with him, he probably saw what I saw in 2015 way back and he left. He went to the senate on the platform of the PDP but by 2011 he felt that he had become powerful enough to float a party, maybe to replicate what Orji Uzor Kalu did when he took over Imo and Abia states with his Peoples Progressive Alliance (PPA). Unfortunately, it didn't work out. I don't have any issue with him. As a matter of fact, you will be shocked that I dedicated this book to him. Forget about the stories you hear outside; you wanted us to be talking 'Ebe Ano-Ebe Ano'. No. Let's concentrate a talk about more serious things. He brought me into politics; I wouldn't have had the opportunity I had if he didn't bring me into politics.
What happened to projects like the international conference centre, it was one of the projects you did not execute?
Let me say this, you don't personalize government, if you come in and there is an ongoing project, you access it if it is something that will be beneficial we certainly continue with it and complete it. If you go to ESUT Teaching Hospital Parklane we developed that place more than Chimaroke Nnamani did though he started it. If you go to ESUT main campus they will tell you what we did there because they are projects, you don't personalize government.
We completed it, if you go to Maryland estate which was not even developed because few of the blocks were at the foundation stages; we took over and we completed the whole thing, improved on the original plan. On the international conference centre, the major problem apart from not being topmost in our priority giving the kind of tight funding we had.
But apart from those issues, the major thing that happened was that shortly after I became Governor the architect who designed that place, somebody I had known, we went to school together in Enugu campus, he came to me and told me he was being owed and I asked him to get me three things for government to process his application, one was to get me the contract document so we know our commitment, two, to get us evidence of what he has been paid so that we know what the balance because there was no record anywhere and thirdly he should get us the design because there was no copy of the design anywhere, in the office of the governor, ministry of land didn't have it. But till today I am still waiting for him, the man disappeared not minding he was being owed. So anybody telling you he is going to do the international conference centre is a joker.
But the place has been cleared, getting ready for work?
Its deceit nobody is doing anything, it's like another second Nigeria bridge under PDP. Nobody is going to do anything there, there is no design.
Was it a wrong concept or what?
It couldn't have been, it's based on any administration's priority list. It couldn't have been. What are you doing with international conference centre, yes desirable to have it in Enugu we searched for eight years for people to come and take over that place and develop it in a PPP arrangement because to use public fund to develop it would have been irresponsible.