By Rotimi Fasan
IT is both unexplainable and depressing (for what it says about his public persona as a lawyer, and erstwhile critic of previous governments) that of all possible options open to him in his apparent dissatisfaction with media report of his administration, Rotimi Akeredolu, governor of Ondo State, could think of nothing better than to ostracise sections of the media perceived as critical of his administration from the Ondo State Government House Press corps.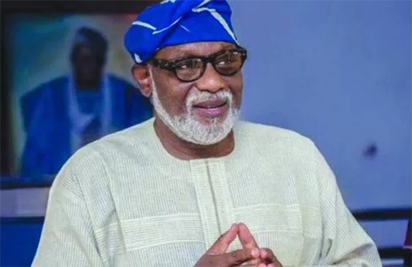 Atiku is a walk-over in 2019 – Sen Ndume
Those affected by this thoughtless ban are reporters from Channels, Africa Independent Television and Core. Bans like this are not common at state level, and that a government like that of the so-called arakunrin (the moniker by which Governor Akeredolu seeks to project a folksy image of himself to the public as a man of the people) would have been so riled and frustrated into acting as it did shows how thin-skinned the governor is. It is a reflection of his intolerance.
Even though the governor has not been quoted in any context to be in support of this action taken by his subordinates, there is no way he can convince anyone the action does not have his blessing. It would therefore not do for him to come out in the near or distant future to make any attempt to distance himself from what happened. Which should explain why I have not engaged in the subterfuge of simply calling the governor's aides to account while pretending not to see the elephant in the room. There is no way Governor Rotimi Akeredolu can wash himself clean from this self-inflicted mess. As a trained lawyer, he should know better than acting like a medieval despot.
What is the issue at stake here, the point of disagreement between his administration and the reporters whose accreditation to work in the Government House was withdrawn? According to the Ondo State Commissioner of Information, Yemi Olowolabi, the reporters' crime is that they are of no apparent value. Of course those are not his exact words. His non-explanation for what led to the unprecedented step he and his principal took is that their administration in the state only expelled such social miscreants as gamblers, blackmailers and extortionists masquerading as press reporters from among the State House press crew.
There have been reports which investigations confirmed, the commissioner claimed, that journalists have been the moving spirit behind an illegal ring of gamblers and blackmailers in the Government House in Akure. What might be of interest to dispassionate Nigerians is what the governor, the commissioner and their aides were doing when outsiders turned their 'father's house into a den of robbers'. Nigerians may also want to know why the media organisations whose reporters were accused of such unethical and irresponsible behaviours could have remained silent and unconcerned even as their employees tarnish their reputation.
Let's be clear to say that at least two of the media organisations affected by the action of the Ondo State government are among the best known in the country. One of them, Channels, has often been eulogied for their high sense of professionalism. That their reporters could find nowhere else but Ondo to soil their hard-earned reputation is beyond credulity.
Nigerians are yet to hear similar accusations from any other state. Which then makes it curious, without absolving the affected media organisations, that it is only in Ondo State that they would put on full display the criminal and unethical tendencies they have not been known to exhibit any where else. In fact, the Ondo State Commissioner of Information seems to have his ideas a little muddled.
For while his ban would appear to have been based on the misadventures of the affected media houses, in addressing the aspect concerning Channels, he claims the media organisation has neither reported anything good nor bad about the activities of the Ondo State government. The Commissioner appeared to be trying too hard with his convoluted explanation to deny that the actual reason they moved against Channels and co is because of 'unfavourable' reports about the administration of arakunrin. Or better stated, their refusal to be bought.
For how does it become the business of Ondo State government and not the employers of these reporters if their employees fail to carry out their duty as journalists? If neither Channels, AIT nor Core are of no use, why should that worry Akure? Why should the Ondo state government assume the role of judge in a matter not their business?
These reporters, by the account of the commissioner, are guilty of shirking their responsibility as reporters. So why should their sanction come from the government of Ondo State rather than their employers? People sure know their right from their left hand and can piece together the missing link in the cover-up explanation that the Commissioner offered to deceive the gullible.
The fact the Commissioner should not try to deny is that they are frustrated that the sanctioned journalists chose not to be guided by the nose but would rather report things from their perspective, right or wrong. That is the only credible explanation in this situation. What a responsible and democratic government should do would have been to continue on its track in the firm belief that the people of Ondo State would be discerning enough to separate the truth from reported lies. Or sue the reporters! But this government would rather be the judge and accuser in its own case.
What this episode all says is that the present government in Ondo is intolerant, particularly the governor, who comes across as authoritarian even when he tries to hide his hand in this disgrace. This is a big let-down on his part for what we must all deduce from his action is that his previous posturing as a rule of law exponent, a former leader of the Nigerian Bar Association who made his name partly from championing pro-people policies and democratic tenets, is all a ruse.
For a man who had in the past represented apparent underdogs, students and others, in their fight against such 'constituted authority' like Mr. Akeredolu's counterpart in Oyo state, it is a shame that he could be this thin-skinned. He shows himself up as something of a closet dictator. Nobody knows what he would do if he had more power than he exercises as governor. His action demonstrates what poor imitators  our leaders  are.
The only thing they learn from their counterparts elsewhere are the wrong things. If Donald Trump could ban Jim Acosta of CNN from the White House why shouldn't an Akeredolu do the same thing to Nigerian journalists? If Trump could ask his military to open fire on rock-throwing migrants, why shouldn't our own soldiers follow suit in their 'women' fight with the Shiites? Shame!