By Egufe Yafugborhi
PORT HARCOURT—Many wailed uncontrollably, yesterday, in Bonny Island in Rivers State as the news of the death of two students and an aged woman in a boat mishap filtered into the community.
Residents felt the tragedy was avoidable as the boat took off on the Port Harcourt-bound journey despite the stormy weather and current.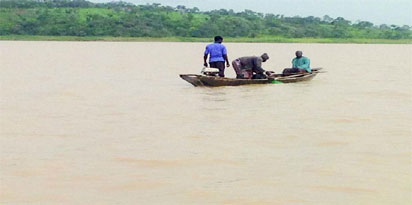 The dead include Isaac Fubara Pepple, Queen Ibinwangi Ibisa Hart, a student at Ken Saro Wiwa Polytechnic and junior sister of popular Nigerian blogger, Inengisa Hart, both from Bonny Island, and a yet unidentified aged woman.
Nine survivors among the loaded boat were rescued by the crew of Catflash, a ferry which ran into the incident on its way to Bonny from Port Harcourt.
A passenger at the Coal Bish takeoff jetty, simply identified as Kenneth, asked, "What we don't understand was how the man could leave shore under that storm that was already de-roofing houses in Bonny.
"Many a time, we have observed all sorts of behaviour by these boat people. They do whatever they like without anyone calling them to order. Shouldn't somebody have stopped the boat driver from driving off into the turbulent sea with those people?"
https://www.vanguardngr.com/2018/10/breaking-buhari-arrives-rivers-to-commission-new-port-harcourt-airport-international-terminal/
Chairman, Bonny Local Government, David Irimagha, while confirming the incident said bodies of the deceased have been moved to the mortuary, wondering why the boat rider decided against following the normal waterway from Bonny to Port-Harcourt and instead followed the Bodo shortcut on the trip.
He called on boat operators to ensure decorum and be safety conscious in travelling on stormy waters in the locality.