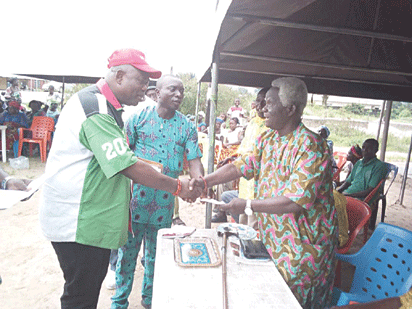 Chief Westham Adehor (left),presenting the sum of N10,000 to Chief Pa Evwaraye Omokor, during his empowerment programme of PDP members of Federal Ward 4 , Okpara Inland, Ethiope East Local Government Area while the PDP Chairman of the ward, Chief Alex Evukugbere looks on.
In line with Governor Ifeanyi Okowa's vision of ' Prosperity For  All Deltans', an  Executive Assistant to  the governor on Political Matters, Chief  Westham Adehor, has empowered over 50 members of Peoples Democratic Party,  PDP, in federal Ward 4, Okpara Inland, Ethiope East Local Government Area last weekend.
Those empowered with the non refundable monthly stipends of N10,000 each include youths, women and five elders from the seventeen polling units in the ward
Speaking shortly before presenting the monies to the beneficiaries, Chief Adehor, explained that the gesture was in line with Governor Okowa's empowerment programme. "We do not need to wait for electioneering period before empowering the people. They need empowerment at all times "
While advising beneficiaries to make good use of the monies by empowering themselves in trading, farming and fishing, he warned that any beneficiary that is found wanting in the purpose for which the money is meant for, will  be disqualified from the empowerment scheme and that  their slots will be given to other serious members of the party in the ward.He also disclosed that he will replicate the scheme in Igbudu Ward in Warri South Local Government Area.
The PDP chairman of the ward, Chief Alex Evukugbere in his address at the occasion, commended Chief Adehor for his empowerment programme. Chief Evukugbere who called on other PDP well to dos in the ward to emulate the gesture of Chief Adehor,  charged beneficiaries of the empowerment programme to make  good use of the monies.
A beneficiary and PDP youth in the ward, John Oborume, commended Chief Adehor as he noted that other highly placed PDP members of Okpara Inland who are better in positions have made unfulfilled promises on empowerment programmes to party members in the ward.He therefore described Chief Adehor as a grassroots politician, who has the interest of the people at heart.
A housewife and a beneficiary of the empowerment programme, Mrs Elohor Omovusu stated that Chief Adehor has put smile on the faces of the needy in the party.
While praying for Chief Adehor to succeed in his political ambitions, she expressed optimism that Chief Adehor will do more for the people if he gets a better political position.