Concerned by the crisis in Akwa Ibom State House of Assembly,  National Chairman of All Progressives Congress, APC, Comrade Adams Oshiomhole, has alleged that members of his party are being intimidated in states controlled by the Peoples Democratic Party, PDP.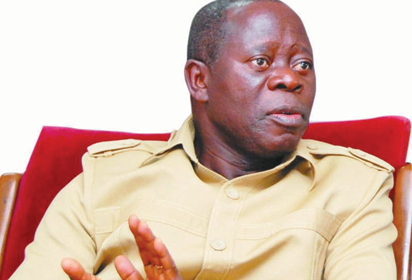 This came as  the House described as illegal, the election of the member representing Essien Udim state constituency, Mr. Nse Ntuen as a factional Speaker of the House by five members whose seats were declared vacant by the Speaker, Onofiok Luke last Monday.
This was contained in a statement by the lawmaker representing  Ibiono Ibom State Constituency, and Chairman, House Committee on Information, Mr. Ime Okon.
The House condemned what it described as the absolute disregard for decency and the rule of law, adding that it would use legal means to ensure that decorum remained the guiding principle of the state legislature under the leadership of Onofiok Luke.
Oshiomhole on his part, said: "It is a very disturbing development in some states where the PDP is misusing the police to undermine the basic democratic rights of APC members.
"A typical example is what just happened in Akwa Ibom State where the commissioner of police colluded with the state governor to force APC members out of the state House of Assembly and the Commissioner went beyond the bound to duty to aid and abet what was clearly wrong.
"It is not the business of the police to assist political authority to effect their bias as regards to issues of the House. We have a law and order.
"If a governor wants extra legal assistance with the police, the Commissioner is not meant to oblige but that is what has happened in Akwa Ibom."