By Ikechukwu Amaechi
IN the lead up to the 1964 British general election, former Prime Minister, Harold Wilson, who became leader of the Labour Party after the sudden death of Hugh Gaitskell in 1963, coined the famous phrase, "A week is a long time in politics."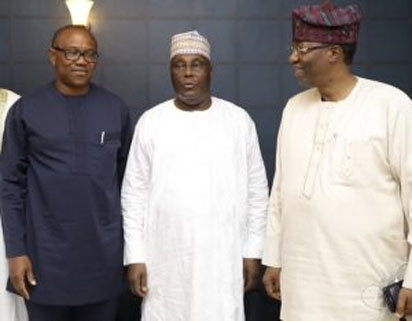 I have come to fully appreciate what the two-time British Prime Minister meant since Sunday, October 7, when the opposition Peoples Democratic Party (PDP) held its presidential primaries at the Adokiye Amesiamaka Stadium, Port Harcourt, Rivers State.
Former Vice President Atiku Abubakar won and suddenly, those who thought they already had a neat ribbon with which they could tie the presidential race waiting for the time it would be dropped in Daura found out that the game had been blown wide open.
Before the primaries, the perception was that President Muhammadu Buhari was home and dry in his second term bid. Not anymore!
Successful national convention
PDP's very successful national convention sent out a strong signal, which Atiku's victory amplified.
Nigerians became hopeful once again that the 2019 polls will no longer be a ride over as hitherto envisaged.
Then barely one week after, Atiku made two deft political moves. On October 11, he reconciled with former President Olusegun Obasanjo, under whom he was vice president for eight years, and on October 12, he picked Mr. Peter Obi, former governor of Anambra State, as his running mate.
For most Nigerians, drafting Obi onto the ticket was a political masterstroke.
Unfortunately, while Nigerians were still savouring the good news, all hell broke loose in the Southeast, Obi's zone, when zonal PDP chieftains scurried to Enugu to address a press conference in a cheap attempt to dampen the buoyant mood in the country.
Claiming that they were not consulted, Governors Dave Umahi (Ebonyi), Ifeanyi Ugwuanyi (Enugu), Okezie Ikpeazu (Abia), Deputy Senate President, Ike Ekweremadu, among others, like quislings, disowned, literally, one of their own.
"We saw news flying up and down saying that our presidential candidate, Alhaji Atiku Abubakar, has picked a running mate from the zone. We were shocked because we were not consulted," Umahi, chairman of the Southeast Governors Forum, said at the press conference.
The backlash was instant and harsh. Not wanting to get down in the mosh pit with them, Nigerians condemned their inanities, forcing Umahi to address another press conference in Abakaliki, Ebonyi State on Tuesday, claiming that their quarrel was with the process that threw Obi up.
"We have never said that Obi is not good for us, we have nothing against Obi. But we want when decisions that concern us are being taken, we want to be part of that decision," Umahi said, questioning "how people from other regions will meet and take decisions that concern the Southeast without the input of a single person from the region."
Co-travelers on the boulevard of treachery
Umahi and his co-travelers on the boulevard of treachery fail to appreciate that this is not about the Southeast. What is at stake in 2019 is more fundamental than the bloated ego of political fat cows adroit at throwing Nigerians under the grinding wheels of political subterfuge.
The Ebonyi governor also claimed that he was aggrieved because "the five names for vice president should have been five names from the five Southeast states; but there was no name from Ebonyi and Imo states."
For Umahi, the fact that "two names came from Anambra, one from Enugu and two from Abia," and none from Ebonyi and Imo is a proof of the "marginalisation of Ebonyi people."
So, if every state in the Southeast presents a candidate for the position, what happens? Will there be an election? Is it no longer the prerogative of the presidential candidate to pick someone who will add value to the ticket, someone who buys into his vision and can help in delivering on electoral promises? What does it matter if all the names that came up for consideration are from one local government?
https://www.vanguardngr.com/2018/10/2019-peter-obi-as-atiku-running-mate-will-take-pdp-no-where-apc-uk/
Atiku, as the PDP presidential candidate wears the shoe and knows where it pinches. He knows what he wants to offer to the people and is, therefore, in the best position to pinpoint who will help him on that arduous task. Isn't one of the hallmarks of good leadership the ability to spot talents and assemble solid teams?
As at today, majority of Nigerians think that in picking Peter Obi as his running mate, Atiku made the right choice, hence the uptick in his approval rating.
Umahi fails to understand that Nigeria is changing and Nigerians are ready to consign the political shenanigans that held them down for decades into the garbage heap of history.
Ndigbo know that the self-righteous indignation of the Umahi-led group is self-serving. They are not piqued because they think Obi has nothing to bring to the table. Their exasperation is not borne out of genuine concern for the common good. Some of them wanted to be on the ticket. Others are angry that a victory for the Atiku-Obi ticket will foreclose their own selfish political permutations.
The pan-Nigeria reaction to their peevishness is instructive. Things are changing and the people seem to be politically wiser.
Will that deter them? I doubt. Old habits die hard and even with the scorn poured on their political misadventure, they would still be trying to see whose political shards of glass cuts Obi deepest.
To be sure, Peter Obi, politically, has his own flaws. He is not given to playing what we call in the Nigerian lingo 'smart politics,' which simply means handing over the people's patrimony to a few political fat cows in a bid to buy their support. And because he refused to play ball, he made quite a number of enemies particularly in his political neck of the woods.
But nobody is denying the fact that Obi's tenure as governor is an exemplar in good governance. It remains the golden era in the rather turbulent Anambra political terrain.
He delivered dividends of democracy both tangible and intangible. He built roads, schools, hospitals, markets, etc. He ensured human capacity development. He paid workers and contractors as and when due. In doing all these, he did not borrow a dime locally and internationally. Yet, at a time when his contemporaries are leaving behind debts running into hundreds of billions of naira for their successors to inherit, Obi left the state's bank balances in green. He refused to fritter away the state's resources on the altar of political patronage. He was fiscally responsible and prudent.
It is instructive that in the era of Buhari, here is one former governor and a very active member of the opposition party that struts the entire political landscape without any qualms.
In fact, a joke trending on the social media captures the Obi essence and why he is an asset to the PDP presidential ticket.
Vice President Yemi Osinbajo was purportedly reporting back to President Buhari on Obi thus: "I have checked Peter Obi's file, there is no corruption issues and he can enter U.S."
An exasperated President Buhari retorted: "Tell Nigerians he is the same Peter that betrayed Jesus three times."
A joke no doubt, but it captures most succinctly the Obi essence in Nigeria's leadership conundrum and why the shenanigans of the so-called Southeast political leaders backfired. That is also why the Atiku-Obi ticket excites Nigerians.
https://www.vanguardngr.com/2018/10/group-holds-3-day-political-workshop-for-women/