LAGOS—National  Secretary of People's Trust and Deputy Director-General of the National Intervention Movement, NIM, Mallam Nasir Kura, yesterday, gave reasons the Mr. Olisa Agbakoba (SAN)-led NIM, the PT, and the Alliance for New Nigeria, ANN, amongst other parties jointly settled for Mr. Gbenga Olawepo-Hashim as their presidential candidate.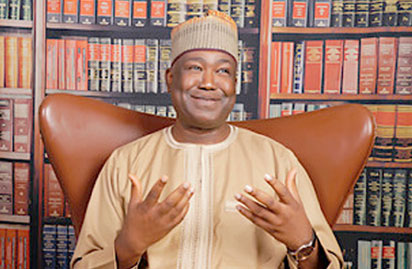 The parties, had at the Lagos Convention of the PT political party, agreed to jointly back Mr. Olawepo-Hashim after a scion of the Awolowo dynasty and PT presidential   aspirant, Lady Olufunke Awolowo stepped down for Olawepo-Hashim.
Giving insight into why the groups adopted Olawepo-Hashim, Mallam Kura said Olawepo-Hashim's integrity, history of struggle for democracy, a combination of business and political experience put him ahead.
The party leader said: "And more importantly for us from the civil society, Olawepo-Hashim is our own man."
Kura said: "He was one of the prominent leaders of the two weeks anti-SAP uprising against the military government in 1989. He has also led an international campaign against the military government from his base in Ghana in May 1989, from where he moved to Europe and Asia. Besides, he was guest at the 13th festival of youth and students in Pyongyang, North Korea in 1989, where he accompanied the South Korean student leader Rim Su Young in a solidarity march at the Demilitarized Military Zone between the borders of North and South Korea.
"Olawepo-Hashim rejected the asylum offer to stay in Europe. He returned to Nigeria in 1989 to continue the struggle. He was detained under the detention of Person's Decree 2 of 1989 under solitary confinement. He was Amnesty International Prisoner of Conscience for Nigeria same year."