KADUNA State appears determined to reaffirm its long-standing reputation as the nation's most violent state. Apart from Maiduguri, the epicentre of Boko Haram suicide attacks and insurgency; Kano, which frequently witnesses "blasphemy"-related violence; and Plateau and Benue States, the flashpoints of  herdsmen's attacks on farming communities, Kaduna takes the cake as the melting pot of sectarian and communal conflicts.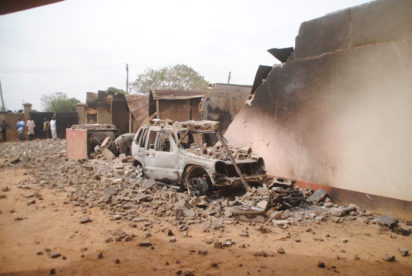 Not even the military was able to cage its blood-soaked history. The main trigger is that Kaduna State is almost evenly divided between the two major religions in the country – Christianity and Islam. The various ethnic groups subscribing to these faiths seem unwilling to share their common space and reap the benefits of diversity.
The state is divided between the mainly Muslim North and the predominantly Christian South, a characteristic that is also evident in the state capital which is called the "Beirut" of Nigeria, where there is an official dividing line between Muslim and Christian sections. Only a little spark brings out residents, armed with weapons, to demonstrate their unwillingness to tolerate one another.
This year alone, two massive paroxysms of violence have wracked Kaduna City. The latest took place in Kasuwan Magani on Thursday,  October  18, 2018. Some news reports attributed it to "a stampede". Some sources blamed it on a quarrel between wheelbarrow porters, while yet another source linked it to a pickpocket caught and brutalised by a mob which triggered a "reprisal" from a group which felt its member was deliberately targeted.
https://www.vanguardngr.com/2018/10/killings-bishop-oyedepo-again-warns-nigerians-politicians/
Whatever the truth of the cause, the official upshot is that at least 55 lives were lost, hundreds injured, shops looted, and homes and vehicles set ablaze. The state government imposed days of total curfews, while the police, as usual, swung into action after much damage had been done. Obviously, the early warning mechanism established during the regimes of Military Governor, Col. Ja'afaru Isah and elected Governor Ahmed Makarfi, which witnessed prolonged periods of relative peace, no longer exists in the state.
Two main reasons have been identified for the frequent violence in the state. The first is intolerance due to invasive, superiority complex which is met with violent defiance between the two sides. The second is lack of trust in the government and security agencies' capacity to address grievances with justice and equity.
The Federal and Kaduna State governments, with the cooperation of community and religious leaders in the state, still hold the key to lasting peace. The early warning mechanism should be restored. Extremists should no longer be allowed to hold the reins of power in Kaduna State. The citizens must learn from other multi-religious states, especially in the South West, where Christians and Muslims live together peacefully.
Enough of the blood-letting!
https://www.vanguardngr.com/2018/10/kaduna-traditional-rulers-murder-fish-out-killers-makarfi-charges-govt/