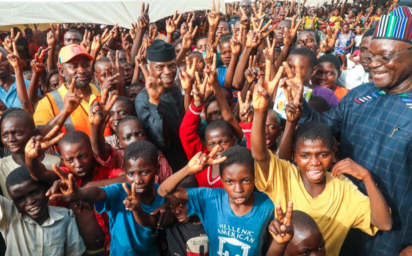 Osinbajo teaching the children at the Abagana IDP camp the song "I am a winner in the name of the Lord"
As part of its corporate social responsibility and to celebrates Nigeria Independence, Viju Industries Limited makers of Viju milk and water products organized Independence Day children party to celebrate with school children in Lagos, recently.
The event which took place at the company's office in Ikeja brought together children from both the private and public schools and also afforded the company the opportunity to award scholarship to deserving school children in Lagos.
Aisha Buhari's brother, Usani, Abe, Ribadu, others lose out as APC submits list
Speaking at the event the Media and Sponsorship Manager, Raphael Osiomwan, Viju Industries Nigeria Limited, said: ''we are celebrating Nigeria Independence day and using the opportunity to celebrate the children too. That is why we are having Independence Day children party basically for schools. Also Today we are awarding those children that participated in the just concluded programmes which explain the reason why we are having both the Viju school scholarship and Independence Day party."
NGO offers free medical care to 500 destitute
Osiomwan noted that the first edition we be an annual one to prepare them for future task as a leader and also know their health status which the brand is known for.