By Sam Eyoboka
PRELATE of Methodist Church Nigeria, His Eminence, Dr. Samuel Chukwuemeka Kalu Uche has said that free and fair election is a possibility in Nigeria only when politicians behave themselves, if security agencies remain impartial, if the umpire is neutral and announces results as they received them.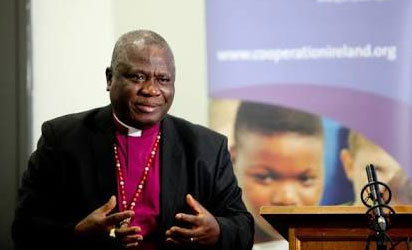 Speaking in a telephone interview, Dr. Uche cautioned all politicians who are already boasting that they must win 2019 elections or they would not hand over if defeated, warning that candidates must desist from such evil equivocations.
"One man was saying that if another party wins next year's elections, they will not hand over. That shows you that some Nigerians are not mentally okay," the prelate said, warning politicians to tread with caution.
"Everybody should maintain decorum, stability, good conduct because election is not a do or die affair. Elect-ive positions are meant to lead and not to rule; nor to oppress," he added, urg-ing Nigerian politicians to tap from his recent peaceful re-election as the pre-late of the church for ano-ther five years term whichwas deviod of rancour and bitterness.
PDP still not confident of INEC, Secondus tells EU delegation
"They should be cautious, fair, kind, tolerant and play the game with a sport-smanship spirit, no manipulation, no oppression or suppression, no violence or hostility. One thing I don't like about Nigerian politics is that it's fraught with castigations, serious arguments, running down people.
"Its not based on ideologies or manifesto. They can deceive the ordinary man. What hurts me most is that kettle is often calling the pot black. They are all the same. Nobody is a saint amongst them.
"In fact the good people in Nigeria are not interested in politics, leaving the stage for those who can manipulate, oppress, kill, destroy, hire thugs and tell lies. The eyes of politicians are red with blood," Uche posited,
On the killing of two aid workers—Saifura Hussaini and Hauwa Liman— and the alleged enslavement of Dapchi schoolgirl, 15-year old Leah Sharibu, abducted 251 days ago, the Methodist prelate said: "God says thou shall not kill. So they have no justification for taking lives because the human beings are created in God's image, and only God can give and take life.
"We condemn in totality any form of violence that results into death, anybody whether he is a Christian or Muslim. The person is a human being and should not be killed.
Cuddle your wives openly, cleric tells husbands, gospel ministers
"Those people are not in their senses, unless they are under the influence of drug, slavery has been abolished since 1807. Modern day slavery is obnoxious, unacceptable, it is not in line with civil-isation…outrageous and an uncivilized type of practice.
"I don't think those people are normal, if they are, they cannot keep a small girl as a slave. They should remember God or Allah. Whatever one does to any human being, one must reap fully the consequence thereof," he noted.
Wondering why the government paid ransom for over 100 girls and left out the only one who is a Christian, he said "whoever negotiated for them did a very wrong, condemnable, abominable, wicked and dastardly thing.
"As far as I'm concerned, life is sa-cred! That's my philosophy. I don't care what religion you belong to, your life is sacred. And that is what I teach and preach.
"I tell all my followers, don't take life, don't oppress or mistreat anybody created by God. Anybody created by God should be free. They should also ensure he or she practices everything prescribed by the laws of the land and the law of morality and spirituality.
2019: We'll defeat our opponents in their home —Okowa
"When you do that, you are a very good citizen of your country. The government should do everything to rescue the girls. There is still time. I think their negotiation channel is still open. They should spend whatever. It'll be a plus for the government if they rescue that girl and other persons still in Boko Haram detention. But if they fail to do it, it's a minus."Prelate Uche said matter of factly.
Subscribe for latest Videos