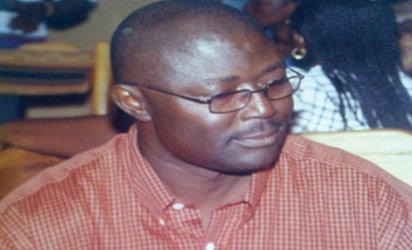 *Godwin Dudu-Orumen
By Patrick Omorodion
I can never stop talking about Dr Samuel Osaigbovo Ogbemudia when it comes to sports development and administration. As a kid I heard so much about the military man turned governor through the wonderful things he did as governor of the old Midwestern region and later later Bendel state.
My first physical encounter with him was in Accra, Ghana in the mid 1990s when he was on the delegation of the Nigerian Shell Cup U-17 football team that went to Ghana to play a match with their Ghanaian counterparts.
Chief Segun Odegbami (MON), now aspiring for the office of the Governor of Ogun state, was also on that trip. During a chat with Dr Ogbemudia in his hotel room, I told him I was a beneficiary of his scholarship as a secondary school student in the mid 1970s.
Jocularly he asked what I did with the scholarship and I told him it helped me to become a graduate of agriculture in the university and he then wondered what I was doing as a sports journalist. He then went memory lane that as governor, he ensured he provided the enabling environment for all sectors of the state to thrive and said agriculture was one of them back then.
He lamented how things had degenerated since he left the saddle. He particularly lamented that  sports in which he had the vision and passion to drive to a height which made Bendel the envy of all states in the federation had declined seriously.
A few months again to his 84th birthday, which incidentally was his last before he passed on last year, I went to his Benin City home to find out from him how he did it and what he thinks could be done to return, not only Edo state sports but Nigeria in general, to its old glory, he again reminded me that his vision of creating the Afuze Sports Camp, where athletes were kept away from all societal distractions to concentrate on their training has been turned into a cassava farm.
I have taken pains to relate this story because, a few weeks ago, Edo state athletes could not attend the National Youth Games in Ilorin, Kwara state and it became a heated argument among a group of Edo indigenes who have come together to look at why Edo state has taken back stage in sports and what could be done to salvage the situation.
Among these passionate indigenes is renowned sports analyst and administrator  who trained as a lawyer but found his way into sports because of his passion, Mr Godwin Dudu-Orumen. While some argued that the administration of Godwin Obaseki has not taken sports seriously, others argued that the APC Governor has an action plan to take sports in the state to a new level.
Not quite long after that, news filtered in that Dudu-Orumen ha been appointed Chairman of the Edo state Sports Commission that will soon be created by an Act of the House of Assembly. Immediately, congratulatory messages stated pouring in for Dudu-Orumen who humbly said that it is a challenge he will need the support of all well-meaning Edo people and Nigerians to tackle and make a success of.
Dudu-Orumen has been in the fore front of those clamouring for the removal of sports from the control of  government and allowing passionate individuals with the backing of the private sector run it without the usual government bureaucracy.
The question is, can Dudu-Orumen match his words with action? I feel  the answer is yes. Yes because Dudu-Orumen, like late Dr Ogbemudia has the first ingredient to succeed as an administrator, which is passion. Secondly Dudu-Orumen worked directly with the late Chief Sabastine Babatunde Williams, one time Chairman of the defunct National Sports Commission and knows what it takes and another strong point for him is that he has been running a football Academy successfully.
While government will provide the enabling environment for the Sports Commission  to work, it is time for all Edo indigenes who are unhappy with the state of sports in the state to throw their weight behind Dudu-Orumen and the team he is expected to work with and support them morally, financially, materially and otherwise to see that the state takes its place in the anals of Nigeria's sports history. Here is reminding Dudu-Orumen that his dream of returning the famous Afuze Camp to its glory should be uppermost on his mind. Efforts should begin immediately to ensure that the Federal Government which took over the Camp and has not done anything meaningful with it should humbly return it to the original owners.