ON Sunday, October 14 , 2018, over 26,000 French citizens trooped out across many cities demanding a state of emergency on global warming to avoid the predicted catastrophe that scientists warn awaits humanity.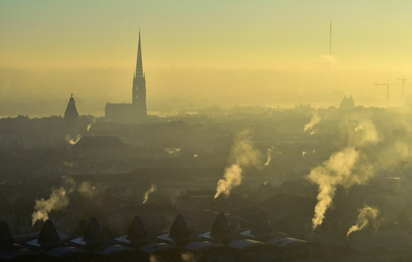 Perhaps, more such demonstrations will take place in other countries to raise the alarm to universal levels because the time for action is short.
On Monday,  October 8, 2018, the United Nations Intergovernmental Panel on Climate Change (IPCC) made up of eminent scientists issued a report warning that the world has only twelve years to act to limit global temperature to 1.5 degrees Celsius above pre-industrial levels, failing which there will be dire climatic consequences for all.
FG to commence clean-up of Ogoni oil spill – Minister
In other words, if this target is not met and the temperature climbs to 2 degrees Celsius (a mere .5 degrees Celsius difference) the world will be a horrible place to live in.
For instance, according to the Panel, at 2 degrees Celsius, daytime heat will increase, leading to heat wave-related deaths, more forest fires, extreme storms and hurricanes, extreme flooding and the extinction of coastal communities which could affect 10 million people.
There will be more rapid desertification and displacement of persons, the extinction of coral reefs and countless other consequences. The report indicates that at the rate the world is going, 3 degree Celsius above pre-industrial levels will soon be in sight.
Supreme Court raises oil revenue for Rivers, Bayelsa, A-Ibom
Nigeria must rise up and join the rest of the world in implementing plans to limit global warming. Everyone is pointing accusing fingers at hydrocarbon energy sources, such as crude oil and coal. That should be of additional concern to Nigerians because we depend on the sale of crude oil for the bulk of our foreign exchange earnings.
If the world succeeds in closing ranks to fight for the earth's survival, then Nigeria must lose heavily and suffer doubly in terms of climatic and economic consequences.
This fight to preserve the earth for ourselves and future generations is not for the developed world alone. It is for all of us, both the government and citizens. We should join the demonstrations, take the awareness to the grassroots and force the authorities to take necessary actions.
Already, flooding, which used to be a once-in-a-while occurrence, has become an increasingly threatening annual ritual. Desertification has been with us for over forty years and the Lake Chad that supported over 10 million people is almost gone. This is the major stoker of the Boko Haram insurgency.
Compel FG to probe $12.7bn stolen oil, Falana tells oil workers
Nigeria will be much less secure and much more impoverished if, through our negligence, the world loses the battle against global warming. The hunger, insecurity, violent insurgency, communal conflicts, illegal migration and multiple sources of displacement of persons from  which we are suffering now will be a child's play.
We must act now!