*The depression of Oriyoghe, Delta-born energy inventor
*What exactly has Federal, Delta govts done in eight years?
*Passionate appeal to Vanguard
By Emma Amaize, Editor, NDV
SAPELE- IN a civilised society, Babaetsetunokan Orighoye, an Itsekiri-born electricity generation researcher, based in Sapele, Delta State, who invented an electricity generating machine, Unique Renewable Engine, aka PABOT Engine, which experts avow, is capable of addressing the country's power challenge,  if mass produced, would not have had the dilemma of funding.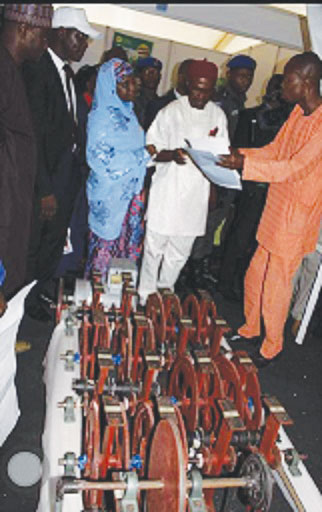 In fact, his talent would have made way for him, but not so in Nigeria, where goldmine is left uncultivated. Orighoye has received no tangible support since he got patent rights for the invention about eight years ago from the Federal Government, under the regime of former President Goodluck Jonathan.
Encounter with Orighoye
NDV Editor had conversation with Orighoye, three years ago, when one of Vanguard Reporters in Sapele, Godwin Oghre, emailed a report about his invention. The report published August 18, 2015 by NDV was headlined: Why Nigeria's Energy Crisis Persists: Pathetic story of Delta-born inventor."
He bitterly complained about how Federal Government gave him patent for the invention, but failed to fund the project. He mentioned how he was distraught because of lack of funding for his creation, which he maintained would provide constant, sufficient and affordable power to meet the energy demand across Nigeria."
His words: "The machine is energized with either water or air and it is not fueled by petrol, gas, coal or diesel, yet it can be installed anywhere as it is environmentally friendly with no side effect. You can touch it, even stand on it like I sometimes do, while it is working."
2018 Alaghodaro Summit to focus on impact of governance on Edo people
Why I embarked on the project
"The constant power blackout across the country spurred me to research into how a permanent solution to that challenge can be achieved. The major driver of rapid economic growth is sufficient power supply. Poor power supply is, today, the bane of Nigerian economy. Once that challenge is solved, industries will flourish. So I ventured into the research and fabrication of the machine," he said.
A university graduate, he is not financially buoyant to sponsor mass production of his PABOT Engine. One of his relations and politician, well-heeled to bankroll the project has not shown sufficient interest.
Reporter's botched effort to draw govt attention
NDV  contacted a former Speaker of the Delta State House of Assembly representing Orighoye's constituency, who showed interest at first, promising to make modest finance available to the researcher, but soon as the name of Orighoye's well-off relation was mentioned, he said: "I do not want to enter anybody's trouble."
Orighoye was sad when we relayed the failed attempt, but the editor asked him what it would cost a journalist  to enable him assemble the trial product at the time in his (journalist) country home to enable him a test run it by himself and tell Nigerians his PABOT Engine story. His precise then was not clear now, but it was plain as the nose on my face that the figure to convert from prototype to reality was beyond immediate reach.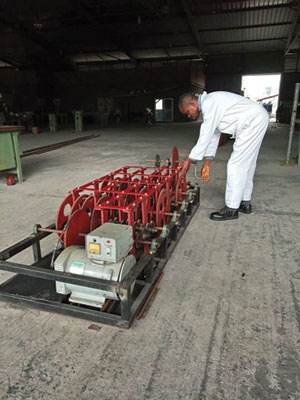 Three years after
Shortly after, I simply lost contact with Orighoye.  But about three weeks ago, Godwin called again on Orighoye's PABOT Engine invention, forgetting that I knew anything about it. I asked for Orighoye's number and there he was minutes after on the other side screaming how happy he was to reconnect with me once again.
He confessed that he had been looking for a way to reach me since NDV first ran a report on his invention, three years ago, though without response from the decision makers in government and Nigerians. But he kept the report in his archives, which he readily want on WhatsApp when I intentionally asked for it.
Ven. Udi tasks Nigerians on chastity
Fabrication at Navy College
Asked the situation of things since 2015, he replied with underneath reservation in his voice: "I and  my team later went to fabricate the machine at the Nigerian Naval Engineering College, Ogorode, Sapele, where it has been found to be the best alternative to the conventional power generating and supply system in the country that have regrettably remained epileptic ."
"It is prototype but it has been tested, government and Nigerians can key into it so that it can be mass produced in different capacities, even as much as can serve the entire nation,
"Very importantly, it is now patented by the Federal Government as a mechanism that can address the nation's epileptic power supply, noting that it can even serve humanity at global scale and address the global climate change. It can be also used to irrigate farms," he said.
I reminded him that the issue of patent by government was old news to me. My inquisitiveness was on what has happened for about three years that we lost touch on his invention.
At Fed Min of Science /Tech expo in Abuja
"Not much", he blurted with melancholy in his voice. He continued: "But in March, this year, the Federal Ministry of Science and Technology organized a "Technology and Innovation Exposition" where investors were invited to showcase their innovations.
How did you get there, were you invited, I asked? He asserted: "I was invited by the Delta state government and the Federal Ministry of Science and Technology to Abuja for a Technology and Innovation Exposition in Abuja."
Delta govt done nothing
Delighted to hear the involvement of Delta state government, I inquired what the state  had done since it came to know about his invention, he said:  "Nothing, the only thing they did is that they aided me to go to Abuja for the exposition," he said.
This writer called a member of the State Executive Council to find out why the state government had not shown much interest in the project, he said: "Honestly, I do not know about anybody with such invention in the state."
Minister Ogbonnaya Onu's assurance
What happened in Abuja? I probed further. Orighoye disclosed:  "In Abuja, I got the support of the Minister of Science and Technology, Dr. Ogbonnaya Onu, who said they will make something available to me to go on mass production and government will see how to take it up immediately. He said the government reiterated in Abuja that his patent on PABOT engine still holds sway.
We will leave no stone unturned to secure Leah, Aid workers' release – FG
Excited Nigerians
Nigerians, who witnessed the exhibition in Abuja, were excited about the invention. Director General, National Board for Technical Incubation, Engr. Dr. N. Jibrin, said, "An excellent initiative that should be supported." Abubakar Isa described it as an "amazing solution to solve power shortage in Nigeria," Frank C. Onumonu saw it as "a promising innovation."
"Mr. S G Muhammed said it was a "good initiative, if improved, it will bring a better understanding of power generation and Mrs. Chijioke from Owerri entreated: "We pray that the product will come out in reality and not in theory. It will be marvelous."
Govt officials recommend mass production
Officials of the Federal Ministry of Science and Technology recommended: "When mass produced, it will completely address the power challenge by providing constant, sufficient and affordable power to meet our energy demand across Nigeria from the range of 5 kva to 5 mega watts and above. This is a renewable energy source; it will also be the solution to the global climate change and boost socio-economic development."
"The innovator has done very recommendable jobs, 75 per cent of the raw materials are locally sourced. The project if properly and adequately funded will create jobs for the unemployed youths and will also create wealth. The inventor/innovator needs support in order to increase the scale of production and will enable the product to be fully commercialized," they added.
…still no funding
Seven months after the technology exposition, Orighoye said:  "Nothing has happened, but subsequently, they now said a grant will be given to us, but at the end of the day, they said they will convert the grant to recognition, that they will recognize us for what we are doing, but notwithstanding, they will bring investors that will take it up."
"After that, nothing has happened yet, there is no funding after the promise. I took the invention to the exhibition, where I demonstrated the working of the mechanism, they brought their team of engineers to see what I am doing and they affirmed that what I am doing is correct and needed government funding, and they stopped at that," he said despondently.
Fervent plea to Vanguard
Orighoye sent a WhatsApp message, pleading:  "Editor, please, I sincerely need fund and support to move the project forward. This I am very sure your write up in Vanguard Newspaper will do for me when you reiterate the extent of my work to the Federal Government, Research Institute, investors and the world at large on how far I have gone on my aim to squarely address power challenges across Nigeria in particular, and the world at large by generating constant, sufficient and affordable power of different capacities."
"It is actually from the range of 5KVA, 10 KVA, 15 KVA, 20 KVA to 5 mega watts, which can  also scale up to generate megawatt of power for the national grid. Please kindly through the pages of Vanguard Newspaper, communicate with government to facilitate the production," he appealed.