•It has become death trap – Elders
By Femi Bolaji, Jalingo
Wednesday was a sad day for most farmers in Southern Taraba when the bridge connecting Wukari to other Local Government Areas in the zone at Chanchanji collapsed unexpectedly.
Saturday Vanguard gathered that while some were heading to their farms following the rain a night before, others were moving their produce to Peva market, whose only access route was the bridge.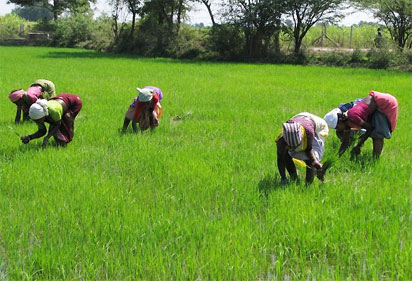 The act of God overnight was said to be the reason why the bridge collapsed whose aftermath resulted to loss of resources, both human and capital.
Majority of the commuters who were predominantly farmers and business men and women hoping for a fruitful day were left stranded the entire day as movement was halted in either side of the bridge.
By the time succour would arrive through concerted efforts by youths in neighbouring communities in form of a makeshift bridge, it was already late as most buyers had left the market while the farmers were counting their loss.
The collapsed Iron bridge, which was only supposed to be a temporary one according to findings had been in existence for years with surrounding communities left with the burden of doing repairs over the years.
However, elders of the area were in great fear of unforseen disaster that might arise should the makeshift bridge which is currently serving both pedestrians and motorists collapse.
Speaking to Saturday Vanguard, Peter Suleagbough, Chairman Tiv Cultural and Social Association in Takum LGA said, "that chanchanji bridge as far as I know has been in existence for more than 40 to 50 years. Since the main bridge was replaced with an iron one, the community has been maintaining it.
"Most times when there was any fault, welders were called by surrounding communities for repair because that was the only route they had to do their normal businesses and access their farms.
"Since 2016 a contractor has been working to put in place a new bridge but up till now there has been no result. But there is fear now over the longevity of the makeshift bridge because heavy duty vehicles have started passing through which in no time will lead to its collapse".
Joseph Useh , the Chairman of Chanchanji Elders Forum while interacting with Saturday Vanguard noted that the area prides itself as the commercial hub of the zone.
According to him, "economic activities have been slowed down for business men and women who receive a boom when rural dwellers come in during market days.Those really affected are farmers who come from villages all over the state bring their produce to Peva market which is a commercial hub of the zone.
"Before today we have been complaining to the state government through the local government which we hope would interface on our behalf on the bad state of this bridge. But ever since our cries have fallen on deaf ears. Now that a temporary makeshift bridge through community effort has been put in place, we hope something will be done about it.
While narrating to Saturday Vanguard how the youths were mobilized by elders for a makeshift bridge to ease both human and vehicular movement, Emeka Ogbu said accessing both Wukari and Takum would have remained a herculean task.
"I was among those who hired chainsaw to cut woods for us to arrange a makeshift bridge for people to access Takum. It seems like the government has forgotten this community because that bridge is the only access road to wukari from Takum and vice versa. Peva market was actually on the receiving end because farmers who brought their produce to the market could not come in until very late when the community effort brought respite.
"We heard in the news that the government will do something about the road before now but it seems they are just using it for campaign. We lack many things in Chanchanji but the bridge is more important to our livelihood. This makeshift bridge is temporary and might get washed away anytime soon if the water flowing under increases if rain falls."
The Chief of Mbajir in Chanchanji, Zaki Richard Amoh expressed displeasure over the hardship his subjects who are predominantly farmers had to go through on the day the bridge collapsed.
"That bridge is the only access road to our farms. It caused us a lot of problem the day it fell.
"Like on Wednesday when it happened which coincided with the market day in Peva, a lot farmers were at a loss because what they expected was not what they got.
"For those who had their farms in surrounding villages they could not go, so it was a wasted day for everyone. The essence of democracy is when those in urban and rural areas enjoy the same benefits in terms basic amenities that can ameliorate their sufferings".
State of federal road, bridges in Taraba
Most roads linking other states from Taraba state are in poor condition with commuters most times at the receiving end.
The Jalingo-Yola road appears to be the worse and risky as long hours are wasted on the road coupled with the volatile nature of surrounding communities which were often plagued by numerous attacks.
Prior to the presidential primaries of the Peoples Democratic Party, PDP, Sen Rabiu Kwankwaso who moved by road from Yola to Jalingo, Taraba state capital to meet with party delegates labelled it as the worse he had ever plied in the country.
"The road from Yola to Jalingo is terrible. If I were you, I will ask every aspirant coming to Taraba to meet with party stakeholders to come by road so they can experience the decay of the road network.
"I am terribly ashamed to say this is an interstate road but happens to be the worst road I have seen all over the country.
"This is a federal road and if I were a voter, I don't think I will vote anyone who neglected this road to continue. I see the governor often times in Abuja but does not know this is the kind of hardship he faces on the road," he said.
From Jalingo- Wukari about three bridges have been cut off, while motorists manage make shift bridges provided by contractors handling their reconstruction.
One of such is that of Bimba, Gassol local government area of the state which was opened up sometime in August by the contractors when the volume of water increased after a heavy downpour to allow water flow freely.
This left many commuters stranded including this reporter who was on official assignment at the time for the Takum 1 Bye-election.
Some other bridges, like that of Mutumbiyu also in Gassol LGA is also at risk, for having a history of being overflown most times by water whenever there is heavy downpour.
Subscribe for latest Videos