By Gabriel Olawale
A University don and Professor of Otolaryngology at the  University of Nigeria, Nsukka, UNN, Prof. Ezeanolue Basil has urged government to pay health workers based on the quantum of job they are allocated as a way of forestalling incessant strikes in the health sector.
Ezeanolue spoke at the 36th Convocation Ceremony of the National Postgraduate Medical College of Nigeria, said when health workers embark on industrial action, the spirit of team work suffers, service delivery suffers, patients suffer and everybody suffers.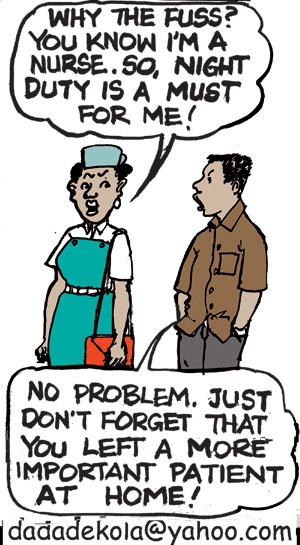 "We do not emulate the global best practices in health sector industrial relations of other countries. Professional rivalry is unnecessary. In like manner salaries and wages should be equal to the quantum of job allocation, work done and qualifications.
"Leadership of the health sector is seen as contests like local authority political positions. Every profession in the health sector should do work they are trained to do and not take actions to infringe on the rights of others."
Ezeanolue disclosed that rivalry and industrial dispute in Nigeria's health sector had been partly caused by government agencies and councils charged with the responsibilities of regulating non-medical professional practices.
"They have colluded with some legislative bodies to make laws inimical to good working relationships between them and the medically qualified practitioners. Laws that give concurrent power and some that ouster medical professionals from their traditional jobs that they are better trained to do, had been passed."
Ezeanolue who was an Associate Editor, Orient Journal of Medicine and National Postgraduate Medical Journal, regretted decline in Nigerian health infrastructure, "Facilities that were readily available in past years are broken down and not repaired.
Technological advancement in diagnostic and therapeutic machines are not readily embraced in the country. Our tertiary institutional infrastructure need to be refurbished and upgraded."
On his part, President, National Postgraduate Medical College of Nigeria, Professor Opubo da Lilly-Tariah said proper and well implemented Universal Health Coverage would discourage Nigerians from travelling out of the country to seek medical health.
Lilly-Tariah said coverage of National Health Insurance Scheme remained low and that die to lack of job security, poor facilities for practice, general insecurity and poor pay, experienced hands and the brightest minds are being lost to the brain drain.
He called for reconstitution of the Medical and Dental Council of Nigeria, MDCN that is saddled with regulation of medical practice in the country.
He said an expanded national health insurance scheme would make healthcare more robust and give hope to practice of Medicine while retaining the best hands."