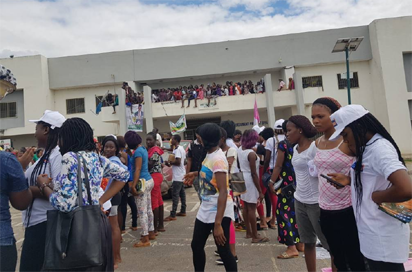 students
By Gbenga Olarinoye, OSOGBO
Notable Nigerians mostly from the academia, recently converged at the prestigious Obafemi Awolowo University, OAU, Ile Ife, to celebrate the late 2nd Vice-Chancellor of the university, Professor Hezekiah Oluwasanmi who died about 25years ago for his outstanding contributions to the citadel of learning.Leading the pack of discussants at the  event was Nigeria's  Nobel Laureate, Professor Wole Soyinka who described Professor Oluwasanmi as a deep thinker of note whose legacies in the university would remain evergreen.
He affirmed that nothing could destroy the vibrant legacies of  the deceased adding: "that is more than sufficient for us who fortunately,are still alive, to attest to his vision and commitments." Soyinka added that the late Oluwasanmi remains one of those great minds that are far too frequently underestimated by the Nigerian society, saying he considered it a great privilege to have met and collaborated with him.In his remark at the event, the institution's Vice-Chancellor, Professor Eyitope Ogunbodede described the late vice-chancellor as a builder of builders whose contributions to the growth of the university was yet to be matched in the university.
Ogunbodede said  the late vice-chancellor has written his name in the Guinness Book of Records with his outstanding and never-to-be-forgotten intimidating achievements on the campus.He described those achievements as pacesetting and  cannot be erased from the minds of those who appreciate the works of a genius. He prayed to God to also equip him with more wisdom to be able to add value to the institution like  the late Oluwasanmi .Also, the Chairman, Board of Trustees, Professor Oluwasanmi Foundation, Most Revd (Prof.) Adebayo Akinde said the memory of great men which Professor Oluwasanmi typified, deserved to be preserved in order to serve as incentive and motivation to generations to come.
"It is from this consideration that the board of trustees of the foundation have set its objectives around  the deceased's commitment to  university teaching and research,development/building and administration and of course, agricultural entrepreneurship and community development.In his remarks on behalf of the family, Gboyega Oluwasanmi described his late father as a man of peace whose interest while alive was to influence peoples lives positively.He added that going by people's eulogy everywhere he went all over the globe, he's very proud to  be  one  of his  children