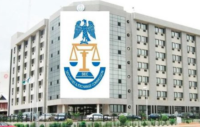 SEC
•
By Peter Egwuatu & Emman Ovuakporie
THE House of Representatives   sub Committee on Capital Market and Institutions, Thursday, mandated the Securities and Exchange Commission, SEC, to take over Capital Oil Plc, a public liability company incorporated in Nigeria since 1985, over alleged financial infraction amounting to over N2billion shareholders fund.

This mandate was given by the Sub-Committee Chairman, Tony Nwulu, at the ongoing public hearing on the compliance of companies with operational and regulatory requirements at the National Assembly Abuja.
The lawmakers, in session, also directed that all former Chief Executives of the company and management should be summoned to give account of how the company collapsed after collecting N2billion from the capital market.
Meanwhile, shareholders under the aegis of Progressive Shareholders Association of Nigeria, PSAN, has kicked against the move by the Legislature ordering SEC to take over the company, saying it is a misplacement of priority.
Speaking to  Vanguard, the Chairman of PSAN, Boniface Okezie, said, "The order given to SEC to takeover Capital Oil by House of Representatives is a misplacement of directive as SEC cannot act as a liquidator.
"What they should have done is to direct SEC to appoint interim management or board that will be mandated to run the affairs of the company with a view to taking it out of the wood.
https://newlive.vanguardngr.com/2018/10/could-the-cbn-be-big-enough-to-apologise-to-mtn-shareholders/
"In this way shareholders interest would be protected. We do not even want them to involve AMCON because they have failed in the responsibility. SEC cannot be able to operate the entity because it lacks the manpower.
"The interim management when appointed should be given a target and period within which to complete its task and handover to a well reconstituted board or management as the case may be. It is only in this way the shareholders fund could be recovered."