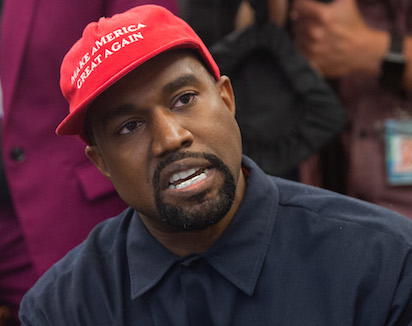 Rapper Kanye West speaks during his meeting with US President Donald Trump in the Oval Office of the White House in Washington, DC, on October 11, 2018. (AFP0
Late Fela Anikulapo-Kuti's son,  Seun Kuti, has attacked American rapper and Kim Kardashian's husband, Kanye West,for claiming Fela's spirit flows through him.
The American rapper made the statement in a video he posted on Twitter, where he bragged that he's the best rapper, musician in the world
"The music is the best on the planet. I am the best living recording artiste. We, rather, because the spirits flow through me. The spirit of Fela, the spirit of Marley, the spirit of 2Pac flows through me. We know who the best is", he said.
Reacting to Kanye's claim, which he probably innocently made out of the musical influence Felamust have had on him, Seun said.
"On behalf of the Kuti family, I want to state that the spirit of Olufela Anikulapo-Kuti isn't anywhere near Kanye West."
Recall that in 2017, Kanye West was reportedly treated for bipolar disorder after he suffered mental exhaustion.Who knows, Seun may probably have been stylishly alluding to Kanye's mental instability when he said the spirit of Fela wasn't anywhere close to the celebrated rapper.