South African President, Cyril Ramaphosa, has appointed former Central Bank Governor, Tito Mboweni, as his Finance Minister on Tuesday, after he had accepted the resignation of Nhlanhla Nene.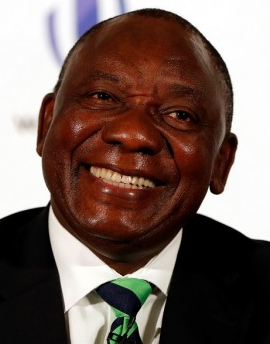 Ramaphosa said he had received a resignation letter from Nene and had decided to accept it.
Nene faced calls to resign after he admitted visiting the Gupta brothers, friends of scandal-plagued former President Jacob Zuma, who have been accused of high-level influence-peddling, and failing to disclose the meetings earlier.
Zuma and the Guptas have denied any wrongdoing.
The rand firmed, moments before Mboweni, was announced Finance Minister at a ceremony in Cape Town.
"It's a measure of his character and commitment to the country that he has decided to resign in spite not being implicated in any wrongdoing," the president said.
"I am confident that Mr Mboweni will bring the leadership that is needed now.
"As a former governor of the Reserve Bank and before that, as Minister of Labour, Mr Mboweni brings with him vast experience in areas of finance, economic policy and governance."
Nene became a divisive figure in the scandal after acknowledging in a hearing that he had visited the Gupta brothers at their homes in Johannesburg, a confession his opponents said tarnished his credentials.
He publicly apologised on Friday.
The Gupta brothers – Ajay, Atul and Rajesh – have been accused of using their friendship with Zuma, Ramaphosa's predecessor, to syphon off billions of rand in state funds and of inappropriately influencing cabinet appointments.
The crisis over the finance minister had thrown a spotlight on Ramaphosa's promise to crack down on corruption and boost economic growth.
Mboweni, the nation's fifth finance chief in less than three years, will have to oversee an economy that's fallen into recession and help Ramaphosa rebuild confidence battered by almost nine years of mismanagement under former President Jacob Zuma.
He must also reassure investors and credit-rating companies of credible plans to stabilise the debt and revive growth in the mid-term budget on Oct. 24.
Mboweni, who trained as an economist, served as head of the South African Reserve Bank for a decade until 2009 and for four years as labour minister in the former President Nelson Mandela's cabinet.
His major achievement at the central bank was building the nation's foreign-exchange reserves to almost 40 billion dollars from less than 10 billion dollars.
Mboweni was born on March 16, 1959, and he was the eighth governor of the South African Reserve Bank and the first black South African to hold the post.
Nene was born on Dec. 5, 1958, and appointed finance minister on Feb. 27, 2018.
He previously served as minister of finance from May 25, 2014, until his controversial removal by former President Jacob Zuma on Dec. 9, 2015.
NAN