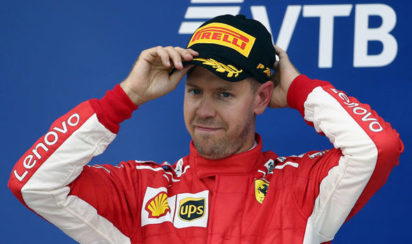 Sebastian Vettel
Sebastian Vettel has rejected the suggestion Ferrari have lost their way after being dealt a hammer blow by Lewis Hamilton in the Formula One title race.
The German, who has watched Hamilton win five of the last six races, attempted to put a positive spin on a poor run of form following his third-place finish behind the two Mercedes in Russia last weekend.
"We haven't lost direction," a defiant Vettel said Thursday ahead of the Japanese Grand Prix.
"We have made progress — the steps that were planned were the steps that came. Maybe they have made bigger or smaller steps, but we are where we wanted to be," added Vettel, who trails Hamilton by 50 points with just five races left this season.
"We have a strong car, but I don't think that we had a dominant car at any point this year. At too many races, we haven't been close enough."
Vettel also went on the defensive when asked if this week's Suzuka race was make-or-break in terms of his waning hopes of pipping Hamilton to a fifth world title.
"I don't like the now or never approach," sniffed Vettel.
"I don't think there's much sense in that. I didn't know it was five out of six," he added, referring to Hamilton's run of victories.
"Now I know, so the secret has been not to count. You attack every weekend — every weekend is different, the track is different, the circumstances are different.
He added: "This is my favourite track in the world, so I'd better enjoy it and not spoil it by starting to count the things that are against me."
Vettel, who like Hamilton has won four times in Japan, remains upbeat despite the Briton's controversial victory in Sochi, where Mercedes ordered Valterri Bottas to allow Hamilton to pass.
"In race pace we were a bit closer," said Vettel. "You can't change much in a week, let's hope the track suits us more."
But the German, who has won five races to Hamilton's eight this year, gave a withering assessment of coming off second-best to his fierce rival.
"I'm sure he had more fun last weekend than I had," said Vettel, a four-time Formula One champion with Red Bull from 2010 to 2013.
"It's tough to have a wheel-to-wheel battle and it's been intense, but I didn't enjoy it as much as he did. Naturally you enjoy it more when you come out on top. Hopefully this week we are a bit closer."
Vettel had an even fruitier reaction on the subject of DRS (drag reduction system) in Formula One — and whether Suzuka should have more than just one zone where drivers can push the go-faster button.
"I'm not a fan," he shrugged. "It's artificial. Now we are in Japan, I think Mario Kart, if you remember — it might be more fun to throw bananas out of the cockpit. Maybe it's a better idea."
AFP