By Michael Eboh
Petroleum and Natural Gas Senior Staff Association of Nigeria, PENGASSAN, Tuesday, called on the federal and state governments, the organized private sector and other stakeholders to immediately resolve the impasse in the ongoing negotiation for a new minimum wage in the country before political campaigns begin in November.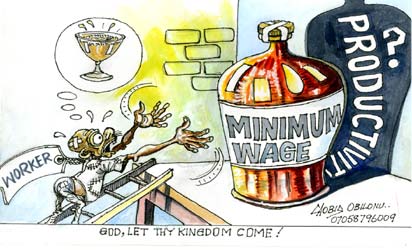 Addressing newsmen on its planned 40th anniversary celebration to be held in Abuja, National President of PENGASSAN, Mr. Francis Olabode Johnson, described as ungodly, the shenanigans displayed by some state governors when it comes to payment of workers' salaries.
He called for a speedy review of the minimum wage and its passage into law before members of the executive and legislators embark on their political campaigns.
According to Johnson, PENGASSAN believes and knows that the Federal and state governments have the capacity to resolve the minimum wage issue before campaigns start, so that it can be legislated upon, passed and eventually becomes law.
https://www.vanguardngr.com/2018/10/fayemi-will-make-ekiti-great-again/
He said, "PENGASSAN, as an affiliate of the Trade Union Congress, TUC, we are also bound to look at the dictates of the agreement. When you look at the issue of the new minimum wage, you will agree that it is long overdue. You must be able to give Nigerians a minimum wage. Look at the current hardship, look at depreciation; look at what everybody is facing.
"I also want to appeal to the Federal and state governments, Nigeria Employers Consultative Assembly, NECA, and other stakeholders, that a stitch in time saves nine. Whatever everybody is supposed to do, because, by the end of November, politics will start; so now is the time to do everything we have to do in that regard.
"Nigerians should also look at it that our leaders know what they are doing, because for every state that has political appointees, I have never seen that that they are been owed salaries. But we can see what is now going on, where towards elections, they would try and pay money into people's accounts and everything. It is ungodly.
"If you are collecting funds, utilize it judiciously. Let everybody have their dues. The issue of minimum wage us what we want to appeal to government to give priority. Let this bickering of N24,000, N25,000 and N30,000 be sorted out, so that you don't create an impression with Nigerians that you are insensitive to their plights. Let us pay everybody his or her due."
The 40th anniversary celebration is scheduled to hold, October 18, 2018 and would President Muhammadu Buhari, would be the special guest of honour.
Others expected at the event are businessman, Aliko Dangote, Group Managing Director of the Nigerian National Petroleum Corporation, NNPC, , state governors, chief executive officers of international oil companies and security experts.
Johnson noted that past labour leaders who fought for the actualisation of June 12 would also be recognized, while he added that the theme of the conference would focus on 'Labour, fuelling the economy.'
https://www.vanguardngr.com/2018/09/no-going-back-on-strike-labour/