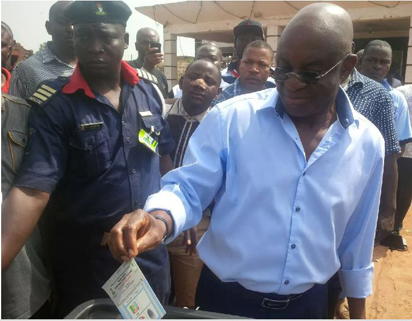 Sen. David Mark voting during the rerun election for Benue South Senatorial District election on Saturday, February 20, 2016.
…Cautions against unguarded utterances
By Dirisu Yakubu
ABUJA- Immediate past Senate President and Peoples Democratic Party, PDP, Presidential aspirant, Senator David Mark has denied backing out of the race even as he cautioned some aspirants and their supporters making unguarded statements about the national convention not to reduce the exercise to a joke saying the quest to be president of Nigeria is a serious business.

A statement signed by his media assistant ,Paul Mumeh quoted the lawmaker as saying governanve "is serious business. Those who have nothing to offer should honorably quit from the race instead of degenerating to purveyors of fake news and rumour peddlers".
Senator Mark was reacting to speculation by one of the presidential aspirants that named him and two others to have stepped down for the said aspirant.
He added, "Those who are afraid of contest have no business in the race. I came into the race well prepared after due consultations with various groups. The positive outcome of my consultations across the country and the overwhelming endorsements encouraged me to vie.
"The PDP is a big family. Nobody should insinuate what does not exist. I'm not aware of any meeting where it was discussed or agreed that anyone should step down for another. What I'm aware of is that delegates should vote and let the votes count".
He urged delegates to trust him saying, "I have a clear road map on how the nation can get out of the woods and restore the pride and dignity of Nigeria before the global community once more".