Edo State Governor, Mr. Godwin Obaseki, has said modalities have been put in place to set up recreational centers to cater for elderly persons in the state, so as to provide for their peculiar needs.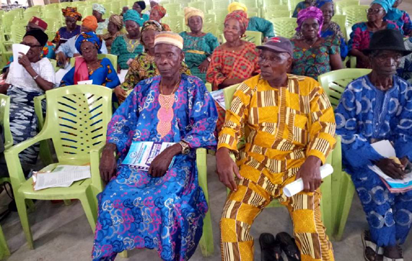 Obaseki disclosed this at the 5th Conference of Elderly Persons' Association of Nigeria in Benin City, Edo State.
The governor, who was represented by the Commissioner for Women Affairs and Social Development, Hon. Magdalene Ohenhen, noted that the decision to set-up recreational centres for the elderly was in line with a country-wide resolution to provide recreational facilities for elderly persons.
"In a communique issued at the end of the 18th August Meeting of the National Council on Women Affairs and Social Development, it was considered that states should establish recreational centres for the aged. We consider this proposal important and have since set the machinery in motion towards actualising it," he noted.
Obaseki commended members of the association for ensuring a unified body through which public attention could be drawn to the welfare of elderly persons in the society.
He said that assessing the general standard of living in any society is partly hinged on how the society caters for the highly vulnerable persons which include children, women and the elderly, adding, "My administration will continue to prioritise social welfare for the needy and vulnerable persons."
The governor explained that in the ongoing refurbishment of primary health care centres across the state, adequate provision has been made to reduce the burden elderly persons in the state go through to access public healthcare centres.
National President of the association, Rev. Adebesi Oluwoye, noted that the theme of the conference, 'The Economic Challenges and the Blessings of Old Age' was apt as the country was faced with numerous economic challenges.
He said that it was regrettable that despite being blessed with abundant human and natural resources, Nigeria was still ranked as one of the poorest countries in the world.
https://www.vanguardngr.com/2018/10/obasekis-car-n1m-cash-gifts-to-2nd-best-teacher-in-nigeria-excite-recipient/