The 2018 Open Shotokan Cup was concluded at the Teslim Balogun Stadium Lagos with Karatekas putting up outstanding performances to the delight of spectators and the Japanese instructor, Kasuya Sensei.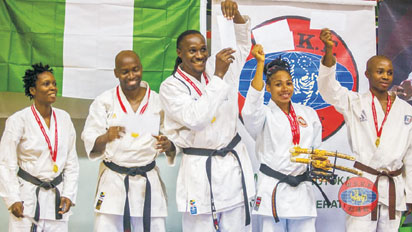 Kasuya Sensei is of  the World Shotokan Karate-do Federation, one of the most respected karate masters in the world who was a student of the late modern day shotokan karate master Nakayama Sensei of the Japan Karate Association.
Real loss shifts momentum to Atletico ahead of Madrid derby
Kasuya Sensei while in Nigeria also conducted a 2 day seminar before he left for WSKF World Cup in Ireland. The event was also part of celebrations marking Nigerian's 58th Inde- pendence day anniversary.
Nigeria marks independence with night of culture and fireworks
The event which was hosted by the World Shotokan Karate Federation saw the Karatekas compete in Kumite and Kata
Noteable winners of the championship were the Male Grand Champion Emmanuel Nweke and Female Grand Champion Ujunwa Nwankawo who both excelled in both Kumite (Sparring) and Kata (Shadow Fighting/Pattern/Forms) also received Japanese Swords for their efforts.
The seminar was attended by karateka from all over Nigeria and other West African countries namely Benin Republic, Burkina Faso, Ghana and Niger.
The 2-day championship was supported by numerous organisations including Vanguard Newspapers, Conflict Resolution and Migration Awareness Initiative, NASK, SKIF Nigeria, among others.
Subscribe for latest Videos