By Victor Ahiumayoung
Minister of Labour and Employment, Senator Chris Ngige, has pledged Federal Government's support to the Economic Community of West African States, ECOWAS, on implementation of its labour and employment programmes and policies in the region.
The minister spoke in Abuja when he received the ECOWAS Commissioner for Social Affairs and Gender Matters, Dr. Siga Jagni.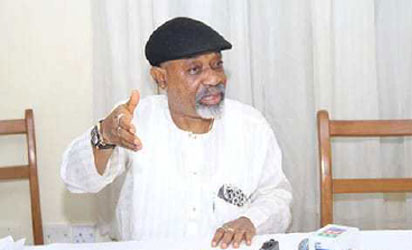 According to him, "the government and people of Nigeria are an integral part of ECOWAS, and we will not shirk our responsibilities.
"Nigeria will support and adhere to all ECOWAS labour migration and employ-ment policies, and call for proper legalisation of such policies, so people will not be short-changed and unduly harassed when they export their skills in the region."
Earlier, Dr. Jagni said her visit was necessitated by the need for the minister's support on implementation of labour and employment programmes and policies in the region; and also over the December general assembly of the Social Dialogue Forum/Meeting of ECOWAS Ministers in Charge of Labour and Employment, on the theme Strengthening Social Dialogue for the Promotion of Decent Work in the ECOWAS region," to hold in Abuja.
In his remarks, Minister of State, Labour and Employment, Professor Stephen Ocheni, said Nigeria will continue to play its leading role in the region, particularly in economic development.