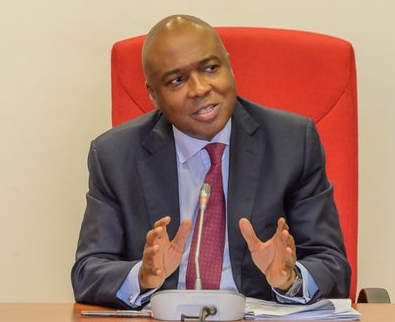 Saraki
By Onozure Dania
Lagos — A Federal High Court sitting in Lagos, Wednesday, ordered the remand of a former Deputy Chief of Staff to the Senate President, Dr. Bukola Saraki, Gbenga Makanjuola, alongside two others in prison custody till October 9, pending when the court will rule on their bail applications.
The other persons ordered to be remanded in prison custody alongside Makanjuola are Obiora Amobi and Kolawole Shittu, a cashier in the Senate President's office.
Justice Babs Kuewumi made the remand order after taking the defendants' pleas in an 11-count criminal charge bothering on the Paris Club refund fraud preferred against them by the Economic and Financial Crimes Commission, EFCC.
The charge
During their arraignment yesterday, EFCC's prosecutor, Mr. Ekene Iheanacho, said the three defendants, a limited company, Melrose General Services Limited, and one Robert Mbonu now at large, had sometime in December 2016, conspired among themselves to disguise the origin of N3.5 billion, which was paid into Melrose General Services Limited account.
EFCC also told the court that the third defendant, Amobi, who was the Operations Manager of Melrose General Services between December 15 and 17, 2016, made a cash payment of N300 million to Robert Mbonu (now at large) from the said N3.5 billion, without going through financial institution.
EFCC further alleged that the former Deputy Chief of Staff to Saraki, Makanjuola, and the cashier in the Senate President's office, Kolawole Shittu, in December 2016, paid $500,000 thrice, between themselves without going through a financial institution.
According to Iheanacho, the offences committed are contrary to Sections 18, 15(2) (d),15 (2) (b) 1(a) and 16(2)(b) of Money Laundering (Prohibition) Act, 2011, and punishable under Sections 15 (3) and 16 (2) (b) of the same Act, but the defendants pleaded not guilty.
Defence counsel
However, counsel to Makanjuola and Shittu, Mr. Paul Erekoro(SAN), and counsel representing Amobi, Mr. Chukwu, told the court that they had filed their clients' bail applications and that same had been served on the prosecutor, who had equally filed a counter.
The two lawyers told the court that the prosecution has not been able to controvert the depositions in their applications, adding that since their clients were granted administrative bail, they have been reporting at EFCC's office without default.
Erekoro informed the court that Makanjuola is a lawyer of 20 years experience and a former member of House of Representatives, while the fourth defendant is a cashier in the Senate President's office.