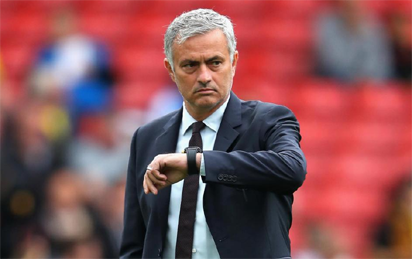 Mourinho
Paul Scholes believes Manchester United should stick with under-fire manager Jose Mourinho but says he is "sick of him moaning" about what he is lacking at the club.
Pressure is mounting on the 55-year-old after a four-game winless streak that has seen them bow out of the League Cup and made this their worst start to a league campaign in 29 years.
Former United and England midfielder Scholes has been one of Mourinho's most outspoken critics and labelled the Portuguese boss "embarrassing" before Tuesday's goalless Champions League draw with Valencia.
Scholes even expressed his surprise that Mourinho had not been sacked following last weekend's 3-1 loss at West Ham but his view appears to have softened ahead of the visit of Newcastle.
"The game on Saturday was one — after the Paul Pogba stuff in the week (Pogba was stripped of the vice-captaincy) — where you question the work ethic," he told BBC Radio.
"I think Tuesday was a little bit different in that way. They tried, worked a bit harder but lacked the real quality to win the game."
He said he agreed with fellow "Class of 92" graduate Ryan Giggs that United should stick with Mourinho.
But he added: "I'm sick of him moaning about what he hasn't got when I think he really should be concentrating on what he has got.
"I think he's got some real quality in the squad who are very low in confidence. Jose over the years has been a brilliant coach. His record suggests that, he's been one of the very best.
"I think now I'd like to see him stay. Take this, which I think is probably the biggest challenge of his career — and show us what a good coach he is."
Scholes said the players at Old Trafford are lacking confidence.
"When they're constantly hearing that they're not good enough — not that they're not good enough — or that they're not performing. You think of players like Anthony Martial or Marcus Rashford. It's about giving them a run of games.
"They will come in and people are dying for them to play. They will be given one game or an hour and not perform that great but you have to give them a run of five, six, seven, eight games. I think that's when you can judge these types of players.
"Unfortunately because the form's not great, he's chopping and changing. He has no idea what his best team is, he has no idea what his best system is, and this is after over two years."
AFP