Perhaps, taking broadband services to rural Nigeria is about the most contentious issue in the Nigerian telecommunications industry  since a few private operators took the bold initiative to land massive submarine broadband cables into the country.
The transformation those initiatives have brought into communication  and businesses in the urban areas, particularly Lagos where the cables landed is so sublime that only replicating them in the rural areas will ensure effective use of broadband for economic growth.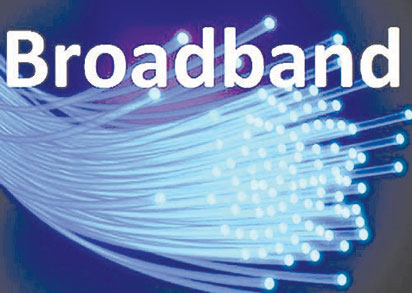 However, the cost of doing that continued to hamper the efforts of operators who consistently battle cut throat Right of Way, RoW price regimes set by different states of the federation.
Fortunately,Regional Director, Africa of satellite company, Yahsat,  Micheal Brown says there's a way out. His prescription is satellite. He believes that only a satellite approach to last mile broadband connection will cut the states and their prohibitive right of way prices out and give the under-served and unserved rural populace some respite.
Enjoy the excerpts:
By Prince Osuagwu
AS a satellite service provider, what role do you think satellite can play in helping Nigerian government realize its national broadband goal?
Yahsat is a broadband satellite operator. We sell wholesale rates to our service partners and they effectively deploy these solutions in countries. We provide services that no other technology can, because we offer them conveniently in the unserved and underserved areas  where there is no other form of connectivity.
We service schools, mining and oil industries, agriculture.  We also deploy services in the borders, police. As a matter of fact, where there is no other solution, satellite provides it.  Although there are competing technologies like the GSM and LTE solutions in the industry, satellite still has a role to play.  Usually, the complaint was on cost but today cost has decreased tremendously, so satellite is now, a lot more cost effective.
There are perceptions out there about a huge gap between traditional connectivity and satellite connectivity. So,  we have taken control of connecting people to the internet and with it comes all the other services like access to bank accounts, access to education, e-learning, commercial websites and a host of othe benefits. So, to get maximum last mile connection, Nigeria must not shy away from satellite.
Can satellite truly bridge the digital divide?
Absolutely. So, there are some critical examples. First of all, let's take a look at the education sector. We've recently been awarded 300 schools in Real Madrid.
Those schools had no access to any kind of digital connectivity but with satellite and Yahclick solutions, those children now have internet access in exactly the same manner the kids in other countries do. This is a medium to take learning materials globally by giving them the things they initially had no access to.
Nigeria Communications Commission (NCC) recently identified some cluster areas that don't have any kind of access at all, both in telecommunications and data. They have also given incentives to people who will deploy services in those areas. Why has it been difficult for you to connect with such spots?
That is a factor of common business reach and expansion.  We've been  working with the government to leverage services to hitherto difficult areas. Previously, we were just on a 90% coverage in Nigeria, but with our new satellite we are on 100% coverage. We have full connectivity all over the Nigerian geographical space .
We have  worked for a number of years with the government and we have recently just been awarded another three partners, another green spear initiative just to help  students in schools where there is no connectivity.
Can we have specific names or statistics of some of the communities you serve?
We have done a lot, but to give you an idea, most of those activities are through our partnership with the USPF,  real connectivity programme for schools. Although it was budget-capped about three years ago, because of a decline in the economy due to devaluation in the naira.
Previously, they used to connect 1,000 schools annually when other service providers with KU-band were providing services but today, Yahclick has proffered a solution by showing how using KA-band could  develop cheaper connectivity compared to KU-band. With our continuous work on subsidizing the hardware, the project came on live again.
In terms of the areas we have covered in Nigeria, we have covered all the regions. We have done North-West, North-East, South-South and South-West. There is no region we have not covered. As at January, we had over 200 sites. Last year for the USPF, we connected about 500 schools and hopefully this year we will have about 600-700.
Why did Yahclick choose the KA-band when the KU band is more popular?
There is a commercial reason for it. The spectrum is reusable and more cost-effective which is very important. Secondly, there is the connectivity spectrum and the KA-band is very secure and consistent. Thirdly, the cost of equipment has made the market affordable for everybody. For instance, with the new satellite we are launching in Nigeria, we're basically giving you the same speed as fibre at a far more cheaper rate. It has a maximum of 25downloads and 3uploads and our competitors are somewhere around 16 to 2.
It appears the so much talked about technology handshake between satellite and broadband is not working in Nigeria. Why?
This touches on a number of issues. Satellite technology is a point to point technology. We do work with operators in some territories with regard to Backhaul. That is not a handshake solution that you are referring to. The technology around the handshake doesn't exist in the connectivity mechanism. The technology around the handshake exists in the MPLS and the networking space. So, there's no reason practically why an environment can't connect via satellite, broadband or GSM to their various outlets and bring the connectivity back to a central point, so it's not practically impossible. But it's different technologies and a handshake is more of networking services than a satellite or a broadband connectivity service.
You pride yourself as the market leader in Africa but  it baffles me you have not initiated such negotiation that'll see satellite and broadband operators share business models towards achieving broadband penetration in the rural areas, particularly in Nigeria?
We have initiated that kind of idea. To connect customers is in all our interests whether satellite or broadband operators. The broadband operator will connect to a certain community in an urban-served area and we bring connectivity to underserved areas where they cannot. So, even if the overriding interest is commercial at least, at the end of the day, we have jointly provided services.
What challenges do you face operating in this country?
Nigeria isn't different from most other African territories. The cost of connectivity is a challenge everywhere. It is not peculiar to us  but everyone who operates in connectivity.
Why are you in Nigeria com event?
There are so many reasons we are here. First of all, this is a very important market for us. Nigeria com is the key communications platform that happens once a year for the ICT sector. We have also made three big announcements this year; the launch of our Al Yahsat's Yahclick which covers 100% of Nigeria now; the extension of our service partners and  we have also announced a joint venture with Hughes.
It's an Echostar company and  they're probably the largest broadband Echostar company on the globe and we've formed a new joint venture, owned both by Yahsat and Hughes, of which we will gain the benefit of delving into deep connectivity in terms of managing effectively, broadband networks and a lot of broadband hardware.
This venture also gives them access to markets that they don't already operate in like the African market.