By Japhet Alakam
Award-winning performance and visual artist, Laolu Senbanjo (popularly known as'Laolu NYC') who has been making waves in the US, has again demonstrated his artistic prowess to his Nigerian fans with the creation of a stunning designed and handcrafted Belvedere limited-edition bottle.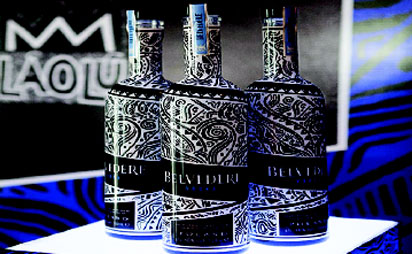 The artistic 2018 Belvedere limited-edition bottle which was officially unveiled last week at Moet Hennessy office in Lagos, Nigeria, was witnessed by many media writers and art enthusiasts who were captivated by the creative design of art in a bottle, which sends a very strong message to all, according to the artist, that "art can be created anywhere."
The super-premium vodka brand has a rich heritage in the history of Polish vodka-making that dates as far back as 600 years. Since its establishment, the brand has always aimed to be at the forefront of innovation while staying dedicated to its legacy, heritage and high-quality standards. Thus, Laolu has visually expressed the true essence and image of the brand with an amazing blend of art revealing the magnificence that lies within the new limited-edition bottle.
The Brooklyn-based performance and visual artist, who is best known for his body-painting featured in Beyoncé's Lemonade, will be touring Nigeria for a series of co-created art experiences and events to celebrate the launch of the new bottle in Lagos and Abuja. He will also be hosting an exclusive canvas painting and art masterclass for established and upcoming artists at the African Arts' Foundation and a grand fashion inspired soiree where Lagos Dreamscape painted by Laolo will be unveiled.
With an artistic vision to reveal the beauty within each of his subjects, the new limited-edition bottle visually brings to life Laolu's interpretation of the complexity, nuance and character of the Belvedere liquid.
Laolu's main artistic medium is the skin; he applies his mantra, "Everything is My Canvas," to mural designs, fashion partnerships, live art events and installations, and now, to the new limited-edition Belvedere Vodka bottle. The first Belvedere bottle with high-quality full-wrap sleeve technology features a flowing design with sharp edges that represent the water and rye working together to produce dimension and taste.
"When Laolu paints a subject, each design is unique to what he believes depicts their inner beauty. This phenomenal message is seamlessly in line with our mission to reveal the unexpected beauty in life," said Rodney Williams, president of Belvedere Vodka.
The iconic design is adorned with sharp edges that signify a fusion of the water and rye that gives Belvedere Vodka its distinct dimension and taste. The bottle's skin-sense texture reacts to UV light and the charcoal colouring has complex patterns inspired by the artist's Yoruba heritage.
"I am so excited to be back home, it has been an interesting journey working on the new limited edition bottle and seeing it come to life is a dream come true. I am always glad to showcase the Nigerian Culture on anything, using art to represent people, culture including the remarkable beauty embedded inside Belvedere Vodka. This bottle brings to life a lot of things the vodka brand stands for such as the rye, the pristine water and the basic things that makes Belvedere what it is and being able to put that on a bottle is so overwhelming"- Laolu Senbanjo.
Laolu is a Brooklyn based Nigerian born Performance and Visual Artist, Singer/Songwriter/Musician, Human Rights Lawyer and Activist whose mantra is "Everything is my canvas."   He considers himself a 'keeper of the Yoruba culture.'   His Sacred Art of the Ori Yoruba body paint ritual (which he created) was featured on Beyonce's Grammy Award winning Visual Album, Lemonade.