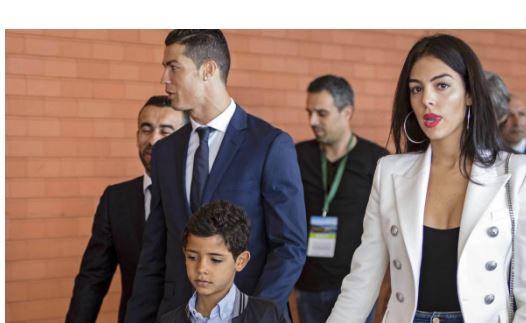 Cristiano Ronaldo and his family
Juventus sporting director Fabio Paratici said Monday it was not easy to replace a player of the calibre of Cristiano Ronaldo as he also dismissed a return to Italy for Manchester United's French World Cup winner Paul Pogba.
Ronaldo, 33, joined Juventus from Real Madrid last summer for 100 million euros ($115 million).
The Spanish club have lost three and drawn one of their last four matches and are currently fourth in La Liga.
"Ronaldo is probably the best player in the history of the game so he isn't easy to replace," Paratici told journalists at the Manlio Scopigno ceremony at Rieti in central Italy after receiving a "Manager of the Year" award.
Paratici revealed that the five-time Ballon d'Or winner had been keen from the outset to join Juventus.
"We talked about it initially, and straight away we got the feeling he wanted to join us, which was a huge advantage," he said.
"Real Madrid had a gentleman's agreement with him, the ownership kicked things off and negotiations began."
Paratici stressed Juventus's support for the Portuguese star Ronaldo, currently embroiled in damaging rape allegations.
"Cristiano is a very simple person and an excellent professional, he has all our support," said Paratici.
The Juventus sporting director ruled out a return of French World Cup winner Pogba, who played for the Turin side from 2012 to 2016.
The 26-year-old Pogba has been told he will not captain United again after reportedly falling out with United manager Jose Mourinho.
"We love him very much," said Paratici.
"We want him to do well since we are close to him but he isn't a Juve player anymore.
"We're connected to him, but we've never thought about it and we're not going to think about it."
Pogba joined United from Juventus for a then world record fee of £89 million in 2016.
Paratici, 46, also denied a move for Lazio's Serbian midfielder Sergej Milinkovic-Savic, saying: "He's a great player, but we haven't spoken to him or Lazio".
Paratici is set to have more responsibility within Juventus after the departure of general manager Giuseppe Marotta.
"Up to now I was happy with my position but things will now probably change a little.
"My goal will always stay the same, to make Juve as strong as possible. I want to dedicate the award I won today to Mr. Marotta who was like a father to me."