By Denrele Animasuan
Give a girl an education and introduce her properly into the world, and ten to one but she has the means of settling well, without further expense to anybody -Jane Austen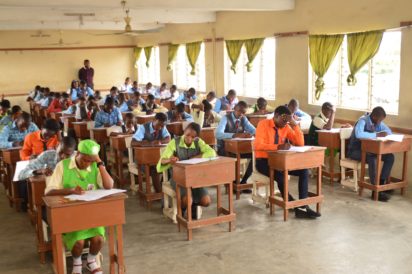 The 11th of October marked the  International Day of the Girl Child and this year's themed "With Her: A Skilled Girl Force".
This global event is to raise awareness and promote the needs of girls the world over to inspire, innovate and to enable girls to take charge of their own future.   It is a big pronouncement, and very aspirational too. It is well over due because when we understand that, with concerted effort, lifting girls up does and can transform the whole world. Afterall, women do hold up half the world.
Ebola-hit: Congo to deploy security forces to protect health workers
So why the focus on girls, you may ask. Researches have shown that girls face more adversities that hinder their training, employment, life chances and future opportunities. They are less likely to have access to health, training, education, information, technology or resources to ensure a level playing field in a fast changing digital world.
According to the UN: A quarter of young people, most of them girls, are neither employed nor getting an education or training.
This year alone, 12 million girls under 18 will be married, and 21 million girls aged 15 to 19 years will become pregnant in developing regions.
It is clear from the onset the privileges given to boys to thrive are more often denied to the girl child. This archaic belief that girls are meant to have children and keep the home will no longer suffice, because when a girl has the opportunity to excel, they often not only benefit themselves but the whole community. As a result, it to everyone's benefit that a girl child has the opportunity to fulfil their potential. Any country that does not protect, promote and ensure the education of the girl child will not achieve as much as they could without the inclusion of the girl child.
Henry returns to France to prove himself in coaching
In places that ensures the opportunity for girls to thrive     the girls has proven to succeed, persevere and excel in education technology, businesses and able to contribute, innovate and offer solutions to global and environmental   challenges as well as standing up to raise their voices to injustices and taking their places in high offices.
This is not a lofty idea or fantasy; it is becoming the reality and paying dividends wherever the girl child is encouraged and empowered to thrive.
World Mental Health 2018.
Every 10th of October, is the global world mental health day. This year's theme is young people and mental health in a changing world.
According to WHO: Adolescence early years of adulthood are a time of life when many changes occur, for example changing schools, leaving home, and starting university or a new job. For many, these are exciting times. They can also be times of stress and apprehension however. In some cases, if not recognized and managed, these feelings can lead to mental illness. The expanding use of online technologies, while undoubtedly bringing many benefits, can also bring additional pressures, as connectivity to virtual networks at any time of the day and night grows. Many adolescents are also living in areas affected by humanitarian emergencies such as conflicts, natural disasters and epidemics. Young people living in situations such as these are particularly vulnerable to mental distress and illness..
In the last couple of years, Nigerians living under enormous stress and undergoing day to day struggles. One being the high unemployment amongst young Nigerians. Studies have shown that employment is good for the emotional health.
WHO stated that half of all mental illness begins by the age of 14, half of all mental illness begins by the age of 14, but most cases go undetected and untreated. In terms of the burden of the disease among adolescents, depression is the third leading cause. Suicide is the second leading cause of death among 15-29-year-olds. Harmful use of alcohol and illicit drugs among adolescents is a major issue in many countries and can lead to risky behaviours such as unsafe sex or dangerous driving.
It is therefore imperative that the government earmark resources and manpower to support and promote mental health care and resilience. Nigeria can ill afford to avoid its most valuable resource: the young people.
Studies indicate promoting and protecting adolescent health brings benefits not just to adolescents' health, both in the short- and the long-term, but also to economies and society, with healthy young adults able to make greater contributions to the workforce, their families and communities and society as a whole.
One biggest support comes from understanding mental health and that early intervention is better. Society has to understand that like physical illness some people can become mentally unwell. The world figure are same everywhere else: One in four will experience mental health condition in any given time. Nigerians are experiencing far too many people considering suicide as they feel there is no way out. There is help but there also have to be societal understanding and ignoring a person's suffering does more damage to the sufferer: society have to understand and the government has to provide staff and resources to reduce mental illnesses.:
Make safe medicines accessible to Nigerians, pharmacists task FG
Prevention begins with being aware of and understanding the early warning signs and symptoms of mental illness. Parents and teachers can help build life skills of children and adolescents to help them cope with everyday challenges at home and at school. Psychosocial support can be provided in schools and other community settings and of course, training for health workers to enable them to detect and manage mental health disorders can be put in place, improved or expanded.
Investment by the government and the involvement of the social, health and education sectors in comprehensive, integrated, evidence-based programmes for the mental health of young people is essential. This investment should be linked to programmes to raise awareness among adolescents and young adults of ways to look after their mental health and to help peers, parents and teachers know how to support their friends, children and students.
The stigma of mental illness, some sufferers say is worse than the illness. It is imperative to understand that support and being non-judgemental approach  is the first steps to recovery.