OSOGBO—Candidate of the Peoples Democratic Party, PDP, in the Osun state governorship election, Senator Ademola Adeleke has vowed to contest the result of the election and reclaim his "stolen" mandate.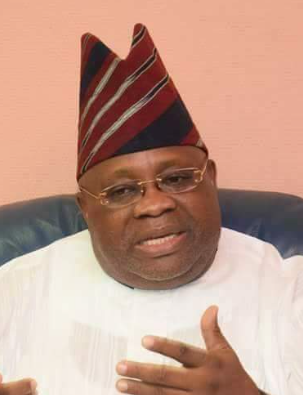 He said this in an interview with Channels Television.
Adeleke said: "I'd like to tell them that their mandate was stolen. The election was rigged because all our people were not allowed to vote."
"They sent in some fake policemen and thugs who were holding guns. They were shooting everywhere. People were scared for their lives. They came out in Orolu, our stronghold. They knew they wanted to vote for PDP but they started beating them.
"They told them that they could not vote. This is the worst election I've ever seen. It has become a shame to Nigerian democracy."
"They are so scared right now. They couldn't even celebrate because they stole our mandate. We have packed our evidence and we will meet them in court.
"INEC has been compromised. Even with the 419 result they brought out, we had extra 2000 votes and they promised to add it. They were caught unawares. They had the instruction that they should not announce me and the whole world was watching. They were making a mockery of our democracy. We won't let it go like that."
Adeleke alleged that the ruling party attempted to kill him in the state capital.
"They planned to kill me. Why can't they go for other people? They know that I am the only one that can defeat them," he said.
"They barred journalists; they didn't allow observers to work. I am not giving up… I salute the good people of Osun state. I salute their courage. They have done so well. What I can tell them is to be calm. They will get their mandates through legal means. That is what we are going to do."