By Onozure Dania
The Nigerian Institute of Chartered Arbitrators, NICARB, has warned that spurious resort to judicial intervention by parties to arbitration proceedings could hurt economic growth.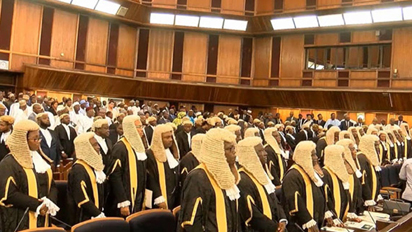 NICARB's Registrar/Chief Executive Officer, Shola Oshodi-John gave the warning  at a media briefing in Lagos to announce the institute's Annual Conference taking place in Lagos.
One billion people in hunger – AfDB
The conference themed: Enforcement of Arbitral Awards and Economic Growth in West Africa, will discuss topics including Incidents of setting aside arbitral awards and its implication; Enforcement of Arbitral Awards:
Sarri: I don't know why West Ham lost four matches
Challenges and Prospects; and The Role and Impact of ICT in Arbitration and Enforcement of Awards. Minister of State, Petroleum Resources, Dr. Emmanuel Ibe Kachikwu and Nigerian Bar Association President, Mr. Paul Usoro, SAN, will deliver the keynote address.
AFCON 2019: Kaoje charges Eagles to raise the bar
Oshodi-John said: "Recent judicial decisions on arbitration-related proceedings and awards present a very disturbing trend that is unfavourable and producing negative impact on the economic viability and growth of West Africa's economy.
"This trend places Arbitration and other ADR mechanism on a balance as most awards become subject of litigation in courts. Parties and practitioners are largely disadvantaged by this development and as such, the need to chart a path to address these challenges."
Women of Fortitude: South Africa National Women's Day Celebration
She noted that the conference will provide an opportunity for business owners, legal practitioners and other professionals to discuss the current mode of enforcing arbitral awards and its impact on West Africa.
"More specifically, the conference will serve as a platform for positioning West Africa as a preferred seat for arbitration
proceedings and also ameliorating the drawbacks associated with delay in enforcement of arbitral awards," Oshodi-John said.
Subscribe for latest Videos