By Onozure Dania
Two senior lawyers,  Mr. Jibrin Okutepa, SAN and Victor Nwaugo have called for equal and unbiased implementation  of the 'Executive order 6' recently  issued by President Muhammadu Buhari.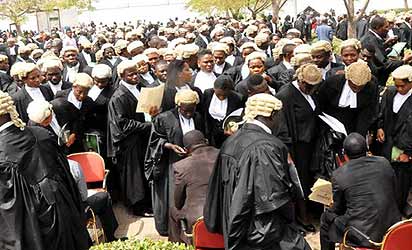 Both lawyers who threw their weight behind the president's order called on law enforcement agencies to ensure its equal application without fear, favour or ill-will.
In his reaction, Okutepa said Nigeria was not the only country where that kind of executive order was being issued, but recalled that in the United Kingdom, there is the 'Unexplained Wealth Order', which is applied to those whose assets appear to be more than their legitimate income.
"Corruption is a heavyweight wrestler. It cannot be fought with kids' glove. We need necessary process to fight it and I believe the Orders of government are necessary instruments to fight it.
Klopp looks to Liverpool fans to inspire his players in Europe
"As Nigerians, we should insist on even application to all and sundry without fear or favour affection or ill-will. There must not be selective applications."
In his reaction, Nwaugo, who is the former Nigerian Bar Association (NBA) Legal Adviser, said the order was merely a presidential policy directive issued towards curbing corruption.
"It should be borne in mind that, in course of the campaign which gave rise to the election of Mohammed Buhari as the President of Nigeria, he made fight against corruption one of the cardinal principles of his administration to which Nigerians overwhelmingly endorsed by voting him into power.
"That the 1999 constitution guarantees freedom of movement and fair trial of a Nigerian citizen does not guarantee absolute freedom or innocence of every Nigerian. The constitution qualifies such freedom and fair trial under Sections 35 (1) (c) and 36 (5) of the constitution.
"Presumption of innocence does not qualify as absolute innocence hence once an accused is under investigation, his right to freely move may be temporarily hampered within the realm of the security agency concerned or even before the court if charged.
Why Buhari's executive order should be opposed and rejected
"In fact, once a person is standing trial, his freedom of movement is temporarily hampered pending the trial and determination of his case as his right to movement will be subjected to the discretion of the court concerned," Nwaugo said
"I have carefully perused the contents of Executive Order 6 of 2018, I have also compared same with the constitutional provisions guaranteeing fundamental right of Nigerians, I have also looked at Sections 5 and 15 (5) of the 1999 constitution which empowers the President of Federal Republic of Nigeria to exercise Executive Powers of the Federation and abolish all corrupt practices.
"I have come to the immutable conclusion that Preservation of Assets Connected with Corruption and other Related Offences Order 2018 is a necessary instrument that will enable the relevant agencies wage war against corruption in Nigeria," Nwaugo said.