By Chinedu Adonu
ENUGU—EUROPEAN Centre for Electoral Support, ECES, has commenced training of electoral stakeholders to checkmate electoral violence at all levels in the country.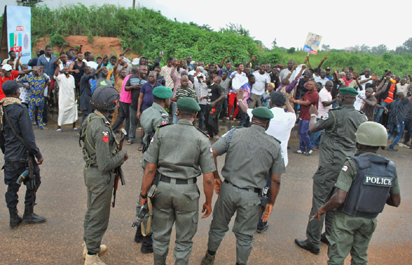 While declaring a seven-day workshop organized by the body at Best Western Hotel open in Enugu, yesterday, the project co-ordinator of ECES in Nigeria, Mr Rudolf Elbling  said that 'the train the trainers' workshop would equip facilitators with the tools that would help them resolve electoral disputes or violence even at the local levels.
At the workshop  themed "Leadership and Conflict Management Skills for Electoral Stakeholders," Elbling disclosed that the training would also strengthen the long term capacities of participants to effectively prevent and mitigate elections-related conflicts and its triggers.
Elections, not a do or die affair, INEC tells politicians
He said: "In managing these conflicts, there will also be need to resolve disputes among stakeholders through negotiation and mediation.
"The workshop will look into ways in which electoral stakeholders such as Independent National Electoral Commission, INEC; Forum of States Independent Electoral Commissions of Nigeria, FOSIECON; Civil Society Organsations, CSOs; Non-Governmental Organisations,  NGOs; political parties; bodies entrusted with electoral justice; security forces and the media can be equipped with expertise in facilitating leadership and conflict management skills for electoral stakeholders.
"The workshop will also provide an in-depth understanding of the LEAD curriculum and conflict prevention, management and mediation techniques from case study perspectives.
"It will also equip representatives of INEC, FOSIECON, CSOs and key electoral stakeholders with facilitation expertise in the LEAD course which focuses   on enriching electoral stakeholders with decision-making and extensive insights into preventing and managing conflicts and conflict reporting throughout the electoral cycle."
In a goodwill message, the Secretary of Forum of States Independent Electoral Commissions of Nigeria, FOSIECON, Dr John Tor-Tsuwa, lauded ECES for organising the workshop as well as other interventions and trainings done by the centre to facilitate credible and acceptable elections in the country.
"I sincerely believe that these moves will help greatly to reduce the incidences of election violence most times perpetrated in all levels of election," he noted.