Stories by Peter Egwuatu
THE Nigerian Stock Exchange, NSE, has commenced move towards introducing electronic-Initial Public Offering, e-IPO, in the Nigerian capital market, just as stock broking firms were charged to adopt technology in their services to clients to boost market participation.
Speaking at the 22ND Chartered Institute of Stockbrokers, CIS, Conference in Lagos, with the theme: ''Evolution of the Nigerian Capital Market Structure: Exploring the Next Frontier for Growth", Mr Abimbola Ogunbanjo, President of the NSE, said that the Exchange has been in the fore front of deploying technology to boost stock market development.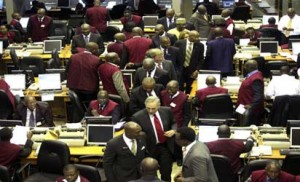 "The NSE is in the process of introducing e-IPO platform which will help boost market participation and enhance liquidity in the market" he added.
He tasked stock broking firms and other operators in the capital market to deploy technology in their services to boost growth and participation in market activities.
In his own speech, Mr Bolaji Balogun, Chief Executive Officer, Chapel Hill Denham, said: "There has been no change in massive infrastructure deficit; 20 million housing gap growing daily, Health-Life expectancy 53 years against OECD's 73 years; education – Literacy rate of 59.6 percent as against Indonesia's 93.9 percent; Jobs-informal economy is estimated at 30-40 percent of Gross Domestic Product, GDP and unemployment reached 18.8 percent December 2017. This scenario effectively results in a failed state scenario as events spiral out of control of the Federal Government".
Proffering solution, he said: "Given the scale of the task in hand, and the lack of federal resources, this outcome is only achievable with massive private intervention from institutional and development capital utilising: Capital Markets, best of the private sector initiatives, well-educated Nigerians, diaspora capabilities through: remittances, reversing the 'Brain Drain'. In addition, action at the Statelevel within Nigeria can mitigate the lack of Federal activity."
Meanwhile, in his welcome address, President of CIS, Mr Adedapo David Adekoje, said : " As I speak, CIS operates in full partnership with the best known international professional bodies in Securities and Investment in the world. As a mark of recognition of our high professional and examination standards, the Chartered Institute for Securities & Investment, United Kingdom (CISI-UK), with effect from this year, grants full membership (MCSI) to Fellows and Associates of our institute."
Continuing, he said: "Despite our successes in our primary responsibility of training and certifying practitioners in the capital market, the Institute has always made it a cardinal responsibility to bring its rich intellectual resources to bear and serve as a strong advocacy platform to guide policy makers at all levels of government and the organized private sector in forging a strong and robust economy, especially from the perspective of the financial services sector."
Subscribe for latest Videos