Superstar LeBron James warned his young Los Angeles Lakers teammates that his patience was wearing thin after a third narrow loss less than two weeks into the new regular season.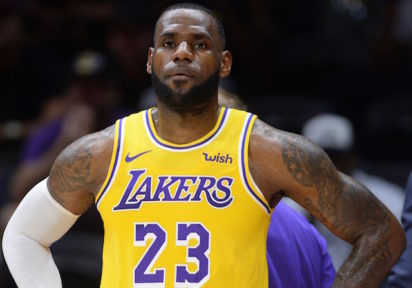 "You probably don't want to be around when my patience runs out. I'm serious," James said after the Lakers lost 124-120 at Minnesota on Monday night, leaving them with five defeats from their opening seven games.
"We talk about patience but you can't have reoccurrences of the same thing. If you are doing the same things over and over and over and expecting the same result then that's insanity.
"So we have to get better. We can't keep having the same mistakes over and over."
James, a four-time NBA Most Valuable Player, has played in the past eight consecutive NBA Finals, winning titles with Miami Heat in 2012 and 2013 and Cleveland Cavaliers in 2016.
But he left the Cavaliers and on July 1 signed with the Lakers, who have lost all three of their games decided by four points or fewer this season.
Lakers coach Luke Walton was unhappy with 18 turnovers and what he saw as selfish offensive play.
"Some of it was just lazy passing," Walton said. "We had a lot of opportunities to run early, and we didn't take advantage of it because we were just kind of flinging the ball around."
James produced 29 points, 10 rebounds, seven assists, two steals and two blocked shots.
"I'm still able to get rebounds, still defend," James said. "I can still make an impact if I'm making shots or not. I'm not a one-dimensional player."
James has six double-doubles and a triple double in seven games with the Lakers and averages 27.6 points, 9.1 rebounds and 2.0 steals — all team highs — as well as 8.1 assists.
AFP