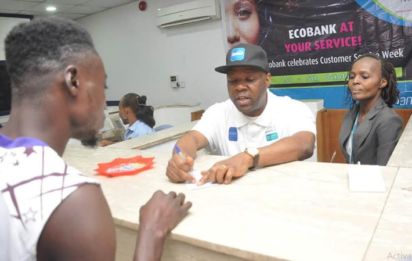 Ecobank Managing Director, Patrick Akinwuntan serving customers in IKorodu Branch
The Managing Director, Ecobank Nigeria, Patrick Akinwuntan has restated the bank's commitment to excellent service delivery to meet the needs and aspirations of its customers at all times.

Flagging off the 2018 Customer Service Week at the Ikorodu branch of the bank on Tuesday, the Managing Director, said the week is a huge opportunity to say thank you and to celebrate customers of the bank. He assured that the bank will remain committed to excellence in products and services delivery at all its touch points.
"This is another moment to celebrate you. We will always celebrate you. You are the reason why we are in business. Excellent customer service is a vital part of our promise as a bank. For us, this is more than just providing answers. It's helping customers even when they don't know they need help. It's teaching them how to do more with our products. It starts with a smile and a friendly word, and finishes with sharing our expertise, even when it has nothing at all to do with our products. We are committed to bringing you superior customer service, whenever, wherever, and however you need it. Thank you for choosing Ecobank." He noted.
Mr Akinwuntan , who was a "Bank Teller" today at the Ikorodu Branch used the opportunity to showcase some of the digital and innovative self-service options offered by Ecobank. "We have Ecobankmobile app, and it is only one app for all the affiliates of the group including Nigeria. When you are within the app, you can switch from one country to the other, you can do transfers from one country to the other, instantly, seamlessly, real-time. On the app, you can also open an instant account, which we call Xpress account within 5 minutes, without having to go physically to the bank. Also on the app you can pay for your electricity bills, school fees, membership fees for major associations, insurance premiums, DSTV, but more importantly, you can also generate a token, which we call Xpress Cash, and you can take that code to any Ecobank ATM and withdraw cash. It's very convenient and we have more than 8 million onboarded users on Ecobankmobile across Africa including 1.5 million of these users in Nigeria" he noted.
Further, the bank Managing Director said "we also offer on the app what we call EcobankPay. This is a multi-featured digital payment solution, designed to deliver unified and instant payment across a range of interconnected QR platforms (Masterpass QR, mVISA and mCash). EcobankPay can be used by all businesses from small informal micro merchants to large corporates as well as governments, allowing them to offer easy and convenient payment options to their customers in-store or online. From Ecobankpay, you scan the code with your phone camera and make your payment. You can do this in any location with a Masterpass or mVISA QR code. Also on the app there is the VISA Direct, which is a P to P functionality. This is the ability to use a VISA card to send money to another VISA card. When you have a VISA card and you have your account with a bank that is not Ecobank. You can, on our app, transfer money from your VISA card to another VISA card.
The Customer Service Week is a global event established by the International Customer Service Association. It is a weeklong activity from October 1st – 5th, 2018 dedicated to raising awareness on customer service and the vital role it plays in successful business practices. The chosen theme for this year is "Excellence happens here". Ecobank has announced that management staff across the bank will be available to serve customers as tellers during the week to commemorate the Customer Service Week 2018.