By Godwin Oritse & Eguono Odjegba
THERE are indications that efforts by government to make the ports more efficient by installing scanners may have hit a brick wall as terminal operators are yet  to allocate space for the installation of its newly acquired cargo scanning machines.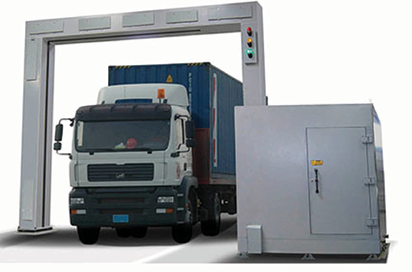 Vanguard Maritime Report  gathered that the Nigeria Customs Service, NCS, is currently facing hurdles in trying to install some of the scanning machines in ports across the country.
The new scanners acquired from China and believed to have arrived the country more than a month ago, remained wrapped up in their pallets as concessionaires are reluctant to provide new spaces, and are believed to have told the Customs to evacuate the old ones to create space for the new ones.
Usually reliable sources informed that although the management of Customs find the concessionaires position irksome and confrontational, the source hinted that the issue has been reported to the Nigerian Ports Authority, NPA, while efforts are being made to work on the possibility of actually evacuating the broken down scanners in the fear that the concessionaires may not shift ground on their position.
This is even as a top culture source familiar with cargo scanning operation lamented that the absence of scanning operation has clearly exposed the country to unmitigated influx of dangerous items including arms and ammunition.
He faulted the of lack of maintenance culture and unnecessary politicking of technical operations as leading to the current situation, insisting that the broken down scanners are serviceable and could still go a long haul if efficiently maintained and managed by qualified personnel.
He added, "The media has failed to tell government the truth of what has happened to the cargo scanners. Those scanners are serviceable. They are not bad, what happened was that government stopped maintaining them, and this started to affect sensitive components of the machines. At the beginning, we were maintaining them, the manufacturer, Smith, was sending its technicians for maintenance periodically, until government suddenly stopped funding. So they stopped coming.
"It is very annoying, now they have bought new ones, if they are not properly and regularly maintained, they will also break down. We are in a funny country where people do as they wish because nobody is held accountable. That is why I said you journalists are not doing enough; in fact you have surrendered your watchdog role.
"Now the terminal operators have even refused to provide space for the new machines. They say Customs should use the space the broken down machines are occupying, that they don't have space. I don't understand how concessionaires  have acumulategrown so much power to challenge government, Nigerian Ports Authority gave the concession, and they know that as cargo terminals, all imported cargo ought to pass through scanning machines.
"Now you cannot know what is getting into the country, there are so many dangerous items that can easily find their way in, just look at the present state of insecurity in the country. Some of those arms and ammunitions and other dangerous items come from the ports. Without scanners there is very little we can do, 100percent physical examination does not guarantee 100percent thoroughness, the scanners is 100percent efficient to pick out any strange image. You immediately halt the affected container or vehicle, indicate the position and check out what brought out the image, that is how to operate and clear importation otherwise, one day, every party thug will be carrying weapons.
"Image analysis doesn't take time, sadly, nobody seems to care. So what I am saying in effect is this, buying new scanners is not the way out, it is maintenance. This new purchase is a waste.
"Weapons can be neatly concealed in welded spaces of vehicles that officers with the best of training cannot detect, but the scanner machine will pick it up. So I think that we are not serious as a country, I think that there is a deliberate policy by government to render our system weak for some persons to exploit, because of this singular mindset.
"Maybe you don't know, there was a time management selected five officers for special training in scanning operations. After the training, only three were deployed to scanning section, the remaining two were sent to other sections unrelated with the training.
"I am telling you of very qualified and competent officers who understood scanning system. As of today, I am not sure any of them is left in the scanning unit, those managing the units are just any pick, so politics is killing us", he lamented.
Commenting, renowned customs broker and former National President of the Association of Nigerian Licensed Customs Agents (ANLCA), Chief Ernest Elochukwu, said Customs has no reason to delay the installation of the said new scanners, and urged the cutoms leadership to approach the Federal Executive Council (FEC) to seek funds to do the needful.  "The white people who manufactured the scanners carry out maintenance on the ones they use in their ports and clime. To buy certain equipment, you equally negotiate support service; it becomes part of the purchase agreement of such sensitive machinery.
"But you see, our own situation, somebody has gone to do the deal, he probably has taken his cut and he is less concerned what happens thereafter.   "There is another issue, it is the weakness contained in the port concession agreement, where some concessionaires behave anyhow they want without consequences.
"So I am not surprised that terminal operators are not respecting government's effort to do things. But if you look at it critically, yes, they are correct to ask Customs to remove their broken down scanner and use the space to install the new ones.
"Customs is making so much money, it is scandalous to hear that they lack fund to evacuate the old scanners to their store or warehouse. Why not ask the Federal Executive Council to provide fund to do this things. This is very shameful", he said.
Attempts to cross check and get the reaction of the NCS National Public Relations Officer, Deputy Comptroller Joseph Attah, proved abortive as call made to his telephone line was not answered. He did not also reply the text message sent to him on the issues as at the time of filling in the story.
In his reaction, Spokesman for A.P. Moller, Mr. Austin Fisher, confirmed that fact that Customs came with consultant to identify space for the scanning machines and after which they left.
"Yes, some Customs officials came to our terminal with their consultant to figure out the space they would want to install cargo scanning machines and left immediately that was done" Fischer said
Uche Ejisieme told  Vanguard Maritime Report  that he was not aware of the development adding that terminal operators cannot refused scanning machines as they are critical to their operations
Similarly, Deputy President of the Association of Nigerian Licensed Customs Agents, ALCA, Mr. Kayode Farinto, said that no terminal operator canstop government from installing scanning machines anywhere in the port because they have the wherewithal to do it.
"Mobie scanning machines are in vogue, the world has gone beyond stationary scanners."So whoever is looking for space to install scanning machines is not serious.
"Terminaloperators do not have options, if government is read to install scanning machines tomorrow, government has the wherewithal and the political will to do it but government is the one that is not serious about it.
"It will make the turnaround time on container operation bettr than it is as scanners will make them do more, they will be more efficient in their service delivery and deliver more than they are currently doing."Farinto said.